Can a Cheap Tablet Help Dell Beat Apple in China?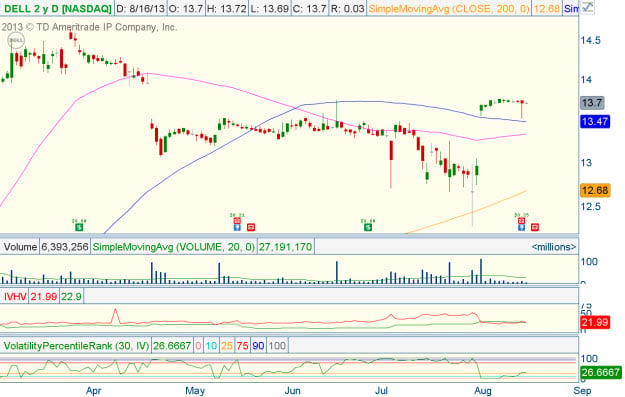 Dell (NASDAQ:DELL) is planning to create a cheap tablet to target the Chinese market, Peter Marrs, Dell's Asia-Pacific director of sales, said at an event in Singapore on Thursday, according to Forbes.
Consumers in China are willing to sacrifice a bit of quality for a lower price tag. Generic-brand tablets as cheap as $60 running on Google's (NASDAQ:GOOG) Android operating system have been popular in the country, and Dell is hoping that its well-known name could help it blow that competition out of the water if it can manage to offer competitive pricing. Dell has been selling electronics to consumers in China since 1998.
Apple's (NASDAQ:AAPL) high-priced iPad has been losing market share in China to those cheap Android tablets, and Dell hopes its cheap tablet could move in on that void. According to research from IDC cited by Forbes, the iPad lost 28 percent of its market share in the country during the second quarter.
Even though devices running on Microsoft's (NASDAQ:MSFT) Windows 8 haven't done as well as Dell had hoped, Dell is betting that 8.1 will be an improvement and will likely use that software for the planned China-only tablet.
Dell has some other big plans for China, as well, Forbes says. Some recent research has suggested that PC sales, which are slumping everywhere else, will actually grow in China in the next year, and Dell has released some new Latitude laptops to market in the country. Dell's servers are also increasingly important there as more of China's 1.5 billion people get connected to the Internet.
But Apple may not sit on the tablet sidelines for long. The company has recognized that it needs to offer cheaper devices if it expects to compete with rivals like Samsung (SSNLF.PK).
Apple is expected to unveil a much rumored basic version of the iPhone called the iPhone 5C at its media events scheduled for next week, which include the first iPhone launch event in China. That iPhone was created to help Apple grow in emerging markets like China, and Apple could create a basic version of the iPad in the future to help meet that same goal with tablets.
Follow Jacqueline on Twitter @Jacqui_WSCS
Don't Miss: What Does Microsoft's Patent Win Over Google Mean for Apple?