Can Amazon's Appstore Outdo Google Play and Apple's App Store?
Amazon (NASDAQ:AMZN) has recently increased its mobile application reach in the ongoing battle with Apple (NASDAQ:AAPL) and Google (NASDAQ:GOOG) for the clicks of mobile app download customers around the world. Amazon recently announced the expansion of its Appstore territory, which will now include nearly 200 countries worldwide.
Developers can either have their apps available in every country by default, or limit their app's availability to certain countries or territories. Developers can also customize an app price for each country or let Amazon calculate the local price off the developer's set base price.
Amazon is making this strategic move in order to increase the appeal of its Android-based Appstore to developers and lure more users away from Google Play. While Google Play's free-of-charge applications are available in nearly every country (Iran is one glaring exception), its paid applications are currently available in only 134 countries around the world. According to Apple, there are over 850,000 apps available in the App Store for users in 155 countries around the world.
Not only has Amazon staked a wider swath of territory in the worldwide market, it has also released new tools that allow developers to more closely track users' app activities. Amazon's so-called "App Engagement Reports" will provide developers with valuable consumer information, including "daily and monthly active devices, installs, sessions, average revenue per device, and retention." Developers can further customize these metrics by sorting the data by date ranges or geographic marketplaces.
Although the recent move has expanded the Appstore's global consumer reach, it won't help the Seattle-based company if those consumers don't have an Amazon device on which to download Appstore apps. Via a press release, Amazon announced that it is also increasing the availability of its Android-based Kindle devices. The new 7-inch and 8.9-inch Kindle Fire HD will now be available for pre-order to customers in over 170 countries around the world. Both styles of the Kindle Fire HD will ship on June 13.
Here's how Amazon, Apple, and Google stock has traded over this past week.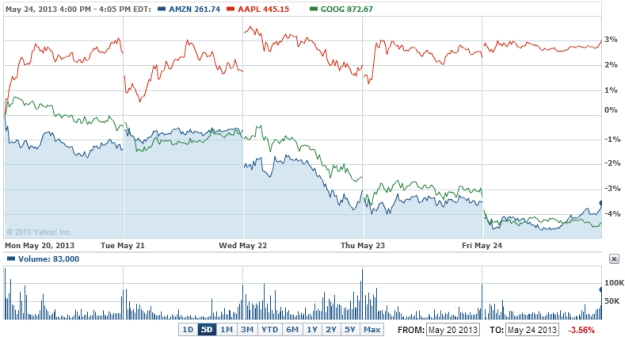 Follow Nathanael on Twitter (@ArnoldEtan_WSCS)
Don't Miss: Why is Doug Kass Changing His Tune on Apple?