Can Apple Make Its Investors Happy?
With Apple (NASDAQ:AAPL) seemingly shying away from returning its massive cash holdings to investors, the company's shareholders may be beginning to get frustrated. According to Sanford C. Bernstein analyst Toni Sacconaghi, it will take a major cash return to send the company's gravity-stuck shares higher.
"There is a widespread belief that Apple does not need to accumulate more cash and should be more aggressive in returning cash," Sacconaghi told CNBC on Thursday. The analyst was responding to the comments from Greenlight Capital fund manager David Einhorn, who has taken Apple to court over the company's proposal to eliminate preferred stock. According to the Einhorn, Apple needed to issue perpetual preferred shares with a 4 percent dividend yield.
Sacconaghi, who has an Outperform rating on Apple, said the biggest catalyst to get the shares moving substantially higher would be a major return in cash to shareholders. "If they raise the dividend 15 percent, it's not going to move the stock," he said. "They need a major change in capital allocation."
At the moment, adding $40 bilion in cash every year to the current holdings of $137 billion was destroying the money's economic value, he said. However, the analyst added that such a measure would require Apple to start taking on large amounts of debt. "So first and foremost, [Apple is] looking at this. The majority of the cash, $85 billion, is off shore," he said. "So, to return that cash, they are going to have to pay a tax. The alternative is to take on debt. They don't want to take on debt, and they don't want to pay a tax, is the issue."
Sacconaghi said he did not believe the suggestions to make huge changes would be taken up by Apple anytime soon. "I'm not holding my breath on that," he said. "Then again, Apple is a company that never returned any money to shareholders, and they took a step a year ago. I'm not betting on significant change in policy in next few months."
According to the analyst, the least Apple could do was to raise its dividend to the high 3-percent range. "Ideally, you want a 4-percent-plus dividend. That will really get the stock moving," Sacconaghi said.
Here's how Apple (NASDAQ:AAPL) has traded this week: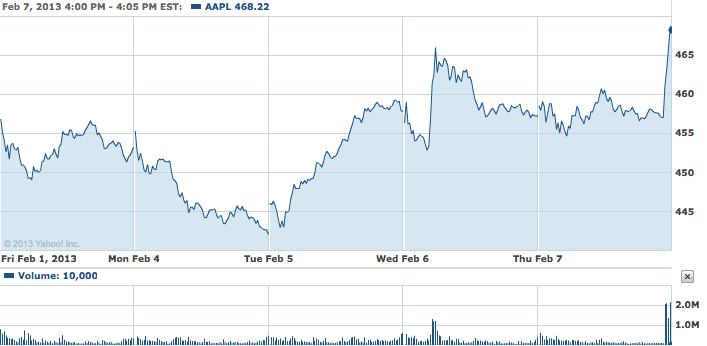 Don't Miss: Doug Kass: Say No To Apple.