Can Apple Never Touch $700 Again?
With Apple (NASDAQ:AAPL) having slid almost $250 from its $700-level perches, investment specialist Howard Gold was not giving the iPhone maker much chance of reclaiming those levels. The columnist wrote at Minyanville that with tailwinds having turned into headwinds, Apple's "competitive position [had] seriously weakened." The company had lost its mantle of being the greatest growth stock of this era and may no longer even be a growth stock, Gold added. He gave four reasons for why he thought Apple's stock would never see $700 again.
The first was the slowing growth in iPhone sales with the increased competition. "Growth has decelerated dramatically, from well over 100 percent year-over-year in the third quarter of fiscal 2011" to 30 percent in the last quarter, Gold wrote. At the same time, Samsung (SSNLF.PK) was gaining also ground while the larger market was slowing.
Secondly, margins were shrinking. For instance, the new iPad Mini was likely cannibalizing sales of the larger iPad, lowering the average selling price by $101 and hurting gross margins, Gold said.
Another big factor was that Apple was losing its innovative edge. "Here's an ominous sign: Apple isn't as cool as it used to be," he wrote. While Samsung made several models of its phones every year, there had been relatively few big changes in the iPhone. The absence of Steve Jobs has been felt by the company and though the Apple co-founder possibly left behind a roadmap for future innovations, "no one has the vision and sheer creative genius he did," Gold wrote.
The last issue was Apple was possibly no longer a growth story. "As margins shrink, earnings growth is tougher to come by. When the momentum stops, growth investors flee like rats from a sinking ship," he wrote.
According to Gold, Tim Cook may be repositioning Apple as a blue-chip stock, but that would come as a big blow to the company image and the "cultists who worship" it.
Here's how Apple has been trading since it hit $700 in September of 2012: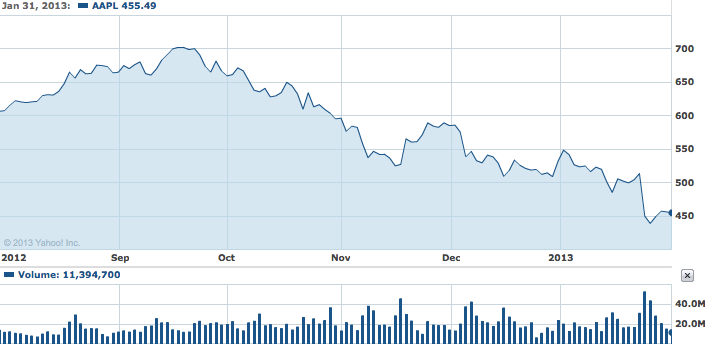 Don't Miss: Is Apple's iPad Losing Weight?