Can Apple Reach This Level By April?
Apple (NASDAQ:AAPL) may have become less exciting as a company and more range bound as a stock, but the current valuation suggests that its diminished prospects are fully priced in, Weeden & Co analyst Michael Purves said. In short, the company's share price, which has succumbed to gravity over the past few months, was on it way up. Purves suggested a 14 percent move up to $520 by April 20.
"We think a move higher will be driven more by a reappraisal of the stock at the current valuation and the technical support/rebound than by an event per se and thus not a major volatility event," Purves wrote in an analysis, according to Barron's.
The predicted rise in the share price was due to several factors in favor of the company, he said. "The next major product, Apple TV, is too far away to infer any clear judgments about cash flow impact from this potential revenue stream," Purves wrote. "Meanwhile, the declining margins and competitive dynamics appear to be well priced in to the company's $250 billion reduction in market capitalization over the last six months and concurrent reduction in forward P/E from 16 to nearly 10."
In addition, Purves added, Apple's forward P/E ratio was at six-year lows and adjusted for its sizeable cash balance, the stock was trading less than seven times 2013 earnings. In this scenario and at the current level, it would soon start attracting value investors. Apple closed on Wednesday at $456.83.
The stock was also clearly oversold, the analyst said. "The stock has become oversold on daily [relative strength index] levels … We have seen in the last two recoveries a 5 percent to 8 percent move higher in the stock … Today's short-term RSI levels are increasing from a more heavily oversold position than they did the past two rebounds."
Here's how Apple has traded technically over the past 5 trading sessions: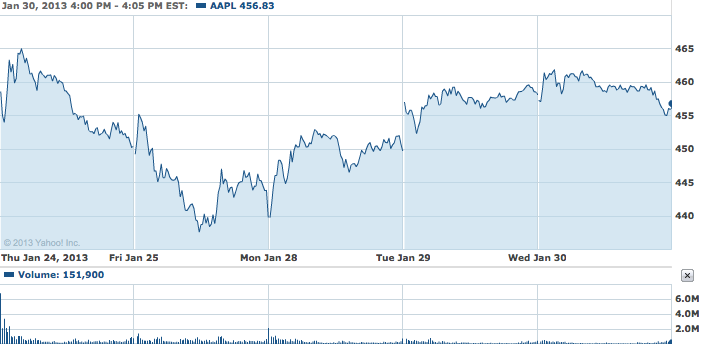 Don't Miss: Are Apple Analysts Getting a Reality Check?