Can Apple's iPhone Make Drivers More Comfortable?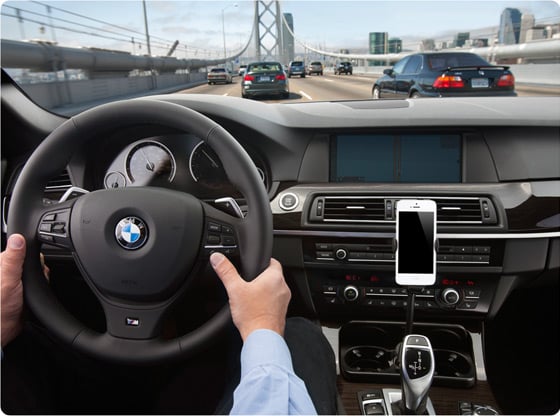 Apple (NASDAQ:AAPL) is exploring the development of a unique driver customization system, which could make cars more comfortable for Apple users. A recent patent application uncovered by Apple Insider outlines a system that will automatically adjust the car's interior, according to an individual driver's specifications.
The patent, titled "Automatic Configuration of Self-Configurable Environments," describes how a user's car setting preferences can be saved and implemented in another car by using a mobile device such as an iPhone. If a driver switches to a different vehicle, the car will automatically adjust itself to the user's preferred settings.
"A user's portable electronic device can learn configuration preferences from a first environment, such as the user's car, and when the user visits another similar environment, such as a rented automobile, those configuration preferences can be imported into the visited environment and used to automatically configure the environment according to the imported preferences," states Apple in the patent abstract.
Apple notes that the imported preferences could include, "seat orientation, radio preferences (especially satellite radio), climate control preferences, and minor orientation preferences." Since different vehicles will have different dimensions, Apple proposes a "translation function" for this system, which will be able to accurately recreate the user's preferred car settings in various environments.
Besides reconfiguring a user's customization settings according to the different dimensions of various environments, Apple's proposed "translation function" can also operate as an intelligent feature that learns from users' behavior. In one embodiment, Apple proposes storing user's modifications in a central repository. This way the customization system could constantly refine its translation function based on aggregated user data.
In order for this system to be effective on a large scale, Apple-compatible software would have to be integrated into many types of vehicles. However, it should be noted that Apple has already made strides in this area, by partnering with twelve different automakers to integrate its "iOS in the Car" system.
Don't Miss: Analyst: Apple's Secondhand iPhones Are Worth More than Competitors' Smartphones.
Follow Nathanael on Twitter (@ArnoldEtan_WSCS)