Can AT&T Beat the Competition?
Early Thursday, S&P 500 (NYSE:SPY) and Dow (NYSE:DIA) component AT&T (NYSE:T) reported its third-quarter results.  Net income fell to $3.62 billion (61 cents per share), compared to $12.34 billion ($2.07 per share) last year.  Although net income declined 70% from last year, investors should keep in mind that AT&T posted a large tax gain last year that inflated earnings.  Investors should be more concerned with AT&T activating only 2.7 million Apple (NASDAQ:AAPL) iPhones in the third quarter, which makes it the lowest quarterly number in nearly two years.  Last year, the company activated 5.2 million iPhone units, which beat estimates by 400k.  However, AT&T's 43.7% profit margin from wireless services beat estimates of 41.9%.
"Mobile broadband growth continues to be robust, execution was strong across the business, and we delivered another solid quarter," said Randall Stephenson, AT&T (NYSE:T) chairman and chief executive officer. "Smartphones, connected devices and tablets all posted impressive gains. Our first LTE 4G markets are up and running with terrific speeds. And we continue to work toward a successful completion of our planned T-Mobile USA merger. The next waves in the mobile Internet revolution represent tremendous growth potential, and we are laying the groundwork required for that future."
Investing Insights: AT&T Earnings Cheat Sheet: Revenue Sees Decline After Four Consecutive Quarters of Increases, Net Income Falls.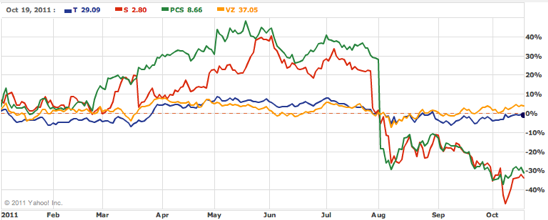 Looking at the chart above, shares of AT&T are relatively flat this year, but still outperforming Sprint (NYSE:S) and MetroPCS Communications, Inc. (NYSE:PCS).  Verizon (NYSE:VZ) has outperformed the field with only a 3% capital gain year-to-date.  AT&T, Verizon, and Sprint all sell the iPhone.
Although AT&T's (NYSE:T) iPhone numbers for the third quarter slowed, the company expects a strong holiday powered fourth quarter.  For the first time, AT&T is offering the iPhone 3GS for free with a two-year contract.  Plus, the new iPhone 4S has been a huge success in the short amount of time its been on the market.  AT&T has already activated more than one 1 million iPhone 4S units.  The slowdown in the third-quarter could have been caused by customers waiting for the new iPhone 4S (NASDAQ:AAPL).
AT&T (NYSE:T) is seeking to expand its business by merging with T-Mobile.  However, it will have to fight the U.S. Justice Department in court over antitrust issues.  The combination of the country's second- and fourth-largest wireless carriers would violate antitrust law and "substantially lessen competition," the US said in a lawsuit filed in federal court in Washington. The Justice Department asked U.S. District Judge Ellen Segal Huvelle to block the deal, the largest announced acquisition of the year according to data compiled by Bloomberg.  It will be interesting to see how AT&T responds to increasing competition if it is not allowed to merge with T-Mobile.  The iPhone (NASDAQ:AAPL) is currently making its way to smaller wireless carriers.  On Wednesday, it was announced that C Spire, a regional carrier formerly known as Cellular South, will become the fourth US wireless provider to sell the iPhone.  C Spire serves less than 900k customers.
Don't Miss: Did iPhone 4S Trip Up Apple Earnings?