Can Best Buy Help Microsoft End PC Slump?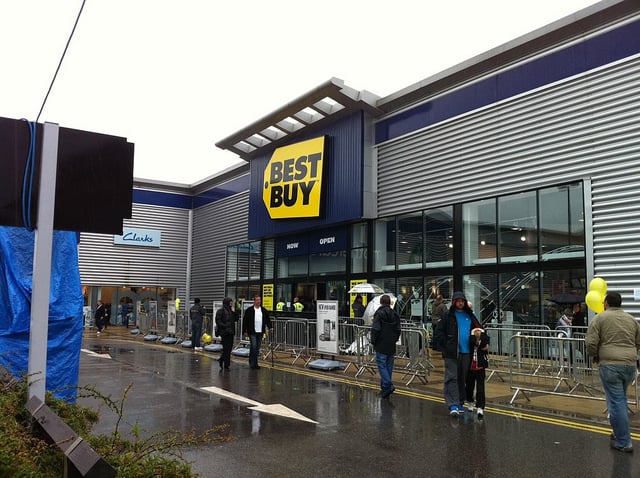 Microsoft (NASDAQ:MSFT) has announced a partnership with Best Buy (NYSE:BBY), launching a new Windows Store at 500 Best Buy locations in the U.S. The  move takes Samsung and Apple's (NASDAQ:AAPL) store-within-a-store concept one step further by essentially taking over the PC department of said Best Buy locations.
As PC sales continue to slump, the Windows Stores will replace the computer departments in specific Best Buy locations, pushing Samsung and Apple areas off to the side. Microsoft will use the stores to promote and sell a wider variety of Microsoft products than are available in regular Best Buy stores, including a range of PCs and tablets, the Windows phone, and the Xbox gaming system. Launching the Windows Store is an important step forward for Microsoft, which hasn't taken full advantage of retail strategies in the past, although some believe the move is not as productive as opening more independent Microsoft Stores would have been.
Apple and Samsung both have stores within some Best Buy locations, but the Windows Store will be different from those ventures in several ways. Firstly, the employees at the Windows Stores will be Best Buy employees trained by Microsoft, unlike the Apple and Samsung employees that work within Best Buy. Microsoft has committed to adding 1,200 Microsoft-trained Best Buy employees. There are only about 100 Microsoft specialists working at Best Buy currently, a shortage that Microsoft has desperately needed to change if it wants Best Buy customers to be informed about its products.
Secondly, Microsoft could face some backlash from its original equipment manufacturer partners like HP (NYSE:HPQ), Dell (NASDAQ:DELL), and others who will face competition from Microsoft's own hardware inside what is essentially a Microsoft-owned store. Lastly, consumers familiar with Microsoft Stores could face a very different experience at these Windows Stores, depending on how well Microsoft manages to train the Best Buy employees in charge of running the Windows Stores.
If the new venture is handled correctly, it will be greatly helpful to consumers, who are increasingly confused as more PC-tablet hybrids enter the market, but are also interested in those less-expensive alternatives to Apple's high-end, high-priced products. The key will be allowing customers ample room to experiment with a variety of different devices in order to determine what would be best for their needs, while having productive discussions with well-trained employees.
One area of concern is how Best Buy has been resistant to change its retail strategy. The store has not been presenting customers with the retail experience needed to show how multiple devices can work together. At the same time, Microsoft's options have exploded. From touchscreen laptops to tablets with detachable keyboards running on Windows 8 or 8.1, buyers need more guidance than ever when it comes to understanding a dizzying array of options.
While some have gone so far as to call the market today a 'post-PC' world, if the Windows Stores aren't screwed up by Best Buy's own inadequacies, consumers looking for PC devices that run Windows may get the shopping experience necessary to make an informed choice about which device will best suit their needs. This type of consumer guidance has the potential to help Microsoft end the PC slump.
Don't Miss: IBM's American Job Cuts Have Now Begun.