Can BlackBerry Regain Its Foothold in the Business Sector?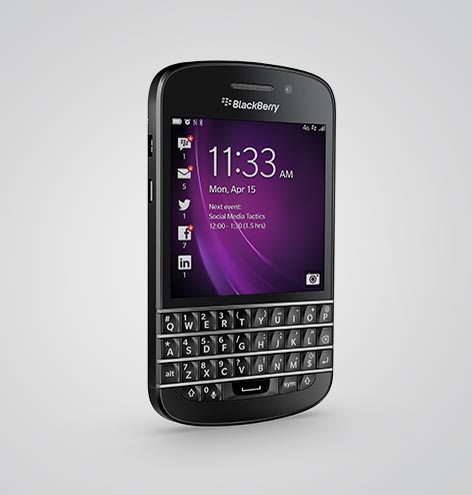 BlackBerry's (NASDAQ:BBRY) stranglehold on enterprise business is starting to dwindle in what could be the company's last stand against companies like Apple (NASDAQ:AAPL) and Samsung (SSNLF.PK). While business and government agencies were once the cornerstone of the struggling smartphone company, that time is coming to an end — and onlookers are not optimistic about BlackBerry's chances in the consumer market if that does happen.
"Ultimately, we are skeptical that BlackBerry can penetrate the consumer market, and its remaining enterprise installed base is no longer large enough to drive unit sales" Kevin Smithen, an analyst for investment firm Macquarie Group Ltd., told investors. "We think the likely end game for BlackBerry is a breakup or liquidation at a lower price."
One of the biggest concerns for BlackBerry is the rise of "bring your own device to work" policies in the workspace — or BYOD. "BlackBerry management may have been underestimating the problem for quite some time," Scott Thompson, an analyst at FBR Capital Markets, said.
On top of the fact that smartphones are simply more ubiquitous now than they used to be and so companies aren't as quick to supply their workers with phones, BlackBerry's top rivals smell blood and are trying to sound the company's final death knell by focusing more on the business sector. And BlackBerry can no longer rely on its archaic reputation as the go-to work phone — market research firm IDC reported last year that BlackBerry shipped less smartphones to the business segment globally than either Apple or Samsung.
Major government agencies dropping the BlackBerry as the work phone of choice include: the National Transportation Safety Board, U.S. Immigration and Customs Enforcement, the Bureau of Alcohol, Tobacco, Firearms and Explosives, and the National Oceanic Atmospheric Administration.
Scott Totzke, BlackBerry's senior vice president of security, believes the situation is not as dire as the media makes it out to be. "There's a lot of sensationalism of what's going on," Totzke said. "There is no solution that is more secure than a Blackberry. We've been doing it longer and better than anyone else in the industry."
However, raw data seems to suggest that the reports of BlackBerry's demise are anything but sensational. BlackBerry's market share in the U.S. was 43 percent three years ago and was only 4.8 percent in May. In the most recent quarter, the company subscriber base dropped from 76 million to 72 million. To most onlookers, there's nothing to exaggerate there.
Most analysts believe the only direction for BlackBerry to move in successfully at this point is software services for businesses. The company's multi-platform BlackBerry Enterprise 10 has been something BlackBerry has been pushing, but Chief Executive Thorsten Heins still contends that corporate customers want "an end-to-end solution that includes the device."
Still, BlackBerry is still considered the leader when it comes to phone security and some analysts argue that while the company has been dropped by some big names, it still has strong loyalty behind the scenes. Furthermore, if the economy were to continue improving, companies would become more likely to spend money on corporate phones again like they did in the past.
Either way, BlackBerry seems to be running out of time. While the company contends that any turnaround takes time, it needs to make some changes fast if it wishes to survive in the fast-moving smartphone market.
Don't Miss: Will Nokia's Cheap Strategy Find it a Niche?