Can Carriers Entice iPhone Shoppers With New Sales Approach?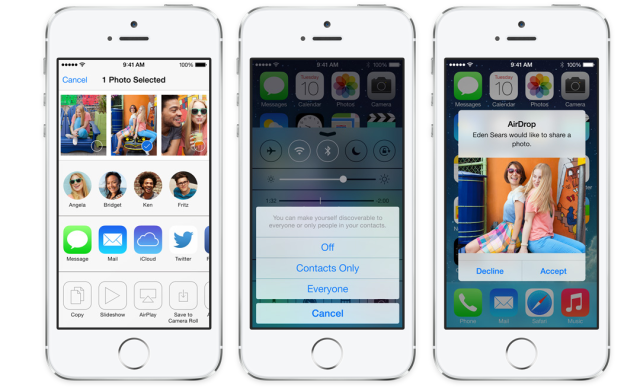 As the September 20 availability date for the new iPhone models approaches, U.S. carriers are rolling out their respective pricing plans for Apple's (NASDAQ:AAPL) latest devices. In a sign of the evolving smartphone market, three major U.S. wireless carriers have revealed similar installment payment plans for the iPhone 5C.
T-Mobile (NYSE:TMUS) pioneered this approach when it began selling phones to new subscribers for the unsubsidized prices. However, the carrier also lessens the initial high cost of the phone by making it a monthly fee. For the upcoming iPhone 5C, T-Mobile is offering the 16GB version for no money down and $22 a month for 24 months. For the iPhone 5S, T-Mobile requires a $99 down payment and $22.91 a month.
Verizon (NYSE:VZ) is also offering the iPhone 5C with no down payment and payments of $23.06 per month for 24 months. AT&T (NYSE:T) is featuring a similar zero money down approach with $22 per month payments for 20 months. However, unlike T-Mobile, Verizon and AT&T will both continue to offer traditional 2-year service contract plans. Both carriers require a $199 down payment and a 2-year contract for the flagship iPhone 5S.
While OEMs have traditionally partnered with wireless carriers in order to create a lower overall entry cost for smartphone customers, this model is beginning to change. Now more carriers are shifting the actual cost of smartphones onto their customers. However, most carriers offset this additional cost by splitting it into a monthly fee.
As the earliest adopter of this payment system, T-Mobile appears to have derived the most benefit from the new sales paradigm. T-Mobile's second quarter earnings report revealed that its total revenues increased by 27.5 percent over the year-ago quarter. The "Un-Carrier" also noted that, "iPhone sales have accounted for approximately 29 percent of T-Mobile's branded gross customer additions and upgrade smartphone sales."
Apple's new iPhone 5C and iPhone 5S models will hit store shelves on September 20. However, customers can also pre-order the iPhone 5C from Apple carriers or the Apple Store.
Here's how Apple has traded over the past five days.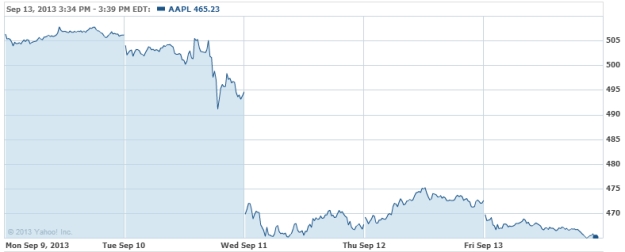 Follow Nathanael on Twitter (@ArnoldEtan_WSCS)
Don't Miss: Here Are the Details of Apple's Big Deal in Japan.