Can Google Beat the Bears and Outperform in 2013?
With shares of Google now trading around $738.12, is (NASDAQ:GOOG) an OUTPERFORM, a WAIT AND SEE, or a STAY AWAY? Let's analyze the stock with the relevant sections of our CHEAT SHEET investing framework:
H = High Quality Pipeline
Google's product pipeline is both well-known and a little wonky. The company is the undisputed king of search – although Yahoo (NASDAQ:YHOO) search and Microsoft's (NASDAQ:MSFT) Bing are by no means dead – and it has a solid line-up of software offerings including Mail, Maps and Drive, and the popular Chrome. YouTube alone is one of the most popular websites on the planet.
But these software offerings aren't immune to usurpation: Apple (NASDAQ:AAPL) is pushing Maps (although a recent fiasco has played in Google's favor), Microsoft Office is promising to enter the mobile-cloud arena with a fresh attitude, and online video platforms – like most tech – must constantly innovate in order to stay relevant.
Start 2013 better than ever by saving time and making money with your Limited Time Offer for our highly-acclaimed Stock Picker Newsletter. Get our fresh Feature Stock Pick now!
Mobile will continue to be the vector for growth for most companies. Google's Android remains massively popular as the counter-balance to the Apple platform. Most, if not every, company will struggle to grok mobile moving ahead. But Google has demonstrated that it understands what it takes to change with the market in the past, and evidence suggests that it will remain a leading and dynamic company.
As reported by comScore for October 2012:
Share (as a percent) of smartphone subscribers
Company
July 12
October 12
Difference
Google
52.2
53.6
1.4
Apple
33.4
34.3
0.9
RIM
9.5
7.8
-1.7
Microsoft
3.6
3.2
-0.4
Highlighting its mobile success: just one year ago, Google's mobile advertisement run rate was $2.5 billion. On the most recent earnings call, CEO Larry Page put the new run rate for mobile business at $8 billion per year.
A = A-Level Management Runs the Company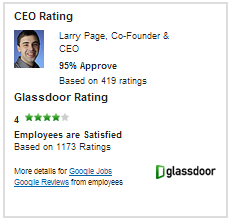 Sometimes it's easy to forget that behind great companies are great leaders. While it may be an overstatement to say that Google's executive team is populated with mad geniuses, the hyperbole is based in truth.
At the top of Google's corporate ladder is the triumvirate of Larry Page (CEO and co-founder), Sergey Brin (director of special projects and co-founder), and Eric Schmidt (Executive Chairman).
Eric Schmidt: Impressed by Schmidt's success at Sun Microsystems, where he started as a software manager and rose through the ranks to become president of Sun Technology Enterprises, Page and Brin hired him to run the company in 2001. Schmidt served as CEO until 2011, until he stepped aside to assume the roll of executive chairman. (Fun fact, from 2006 to 2009, Schmidt served on Apple's board of directors. Obviously, a conflict of interests got in the way.)
Early on, armed with a Ph.D. in electrical engineering and computer sciences from U.C. Berkley, Schmidt did some time in R&D at Bell Labs and Xerox's (NYSE:XRX) Palo Alto Research Center. He has served on the board of trustees for both Carnegie Mellon University and Princeton University, and was a campaign adviser for President Barack Obama.
It's hard to overstate the clout this guy has in the political sphere. Obama considered him for Commerce Secretary and chief technology officer to the administration. He currently serves as a member of the President's Council of Advisors on Science and Technology. Most recently, he embarked on a trip to North Korea for so-far unnamed reasons.
T = Technicals on the Stock Chart
As of January 8, Google was trading 3.45 percent above its 20-day simple moving average, or SMA; 6.97 percent above its 50-day SMA; and 12.98 percent above its 200-day SMA.
Since the beginning of 2013, the stock has been in an upward trend, climbing 4.35 percent this year to date. The stock is up 13.55 percent for the past 52-week period.
If you looked at the stock chart and thought to your self "what the hell is that massive drop in October?" you're not alone. It may have faded from general market memory by now, but October 18 had a surprise for investors. An incomplete draft of Google's third-quarter 2012 results was posted to the Securities and Exchange Commission website in the middle of the day, ahead of the scheduled release after the bell.
Earnings came in lower than expected and shares instantly dropped 9 percent before trading was halted for the rest of the regular session. By many standards, it was a fairly textbook case of market panic, and investors who bought the dip have clearly come out as the winners at the end of the day.
Conclusion
In 2012, Google clocked in as the fourth most valuable brand in the world. The company's brand value grew 26 percent from 2011 to $69.7 billion. (For the curious, Apple's brand value grew 129 percent to $76.6 billion.)
For the dividend hunters out there, Google doesn't offer one, so too bad. The stock is currently trading at a trailing-twelve-months P/E of 23.13 and a forward P/E of 15.94. Price to book for the most-recent quarter is 3.54.
The indicators suggest that Google will continue to OUTPERFORM as it recovers from its October slip and maintains a leading position in the mobile OS and search markets.
Using a solid investing framework such as this can help improve your stock-picking skills. Don't waste another minute — click here and get our CHEAT SHEET stock picks now.