Can New Kindle Fire Tablets Help Amazon Beat Apple?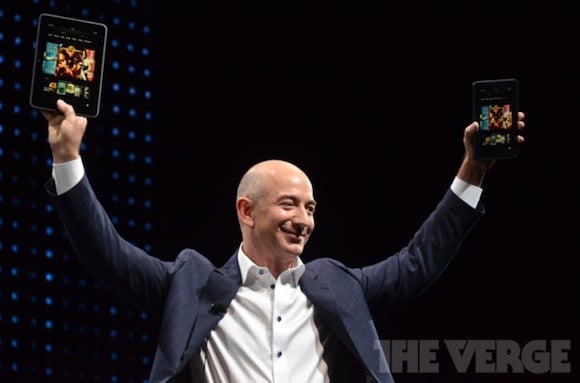 Late on Tuesday evening, Amazon (NASDAQ:AMZN) unveiled its new Kindle Fire HDX tablets. The new Kindle Fires are lighter, faster, more powerful, and have longer battery life than Amazon's previous models, with the intent of challenging Apple's (NASDAQ:AAPL) industry-dominating iPad.
The new models come in a 7-inch or an 8.9-inch screen that are both sharper and more colorful than previous Kindle models, according to reports. Fox News pointed out that the Kindle's screens have more pixels than the newest iPads; additionally, the devices have a Qualcomm (NASDAQ:QCOM) Snapdragon 800 processor, a battery life of up to 11 hours, and are three times faster than the older Kindle Fire HD tablets.
Amazon's Kindles are also less expensive than Apple's iPads. For 16GB of memory the 7-inch tablet costs $229, and the 8.9-inch costs $379, compared to Apple's 16GB iPad mini that starts at $329 and the full-size version, $499, according to Reuters. With the release of the new Kindle Fire HDX tablets, Amazon is cutting the price of older models: A new version of the Kindle Fire HD had its price slashed from $199 to to $139.
Amazon has a different approach to marketing its tablets than Apple does, selling them almost at cost and then using them to promote purchases of Amazon digital content like books, music, and movies, as well as physical goods from its website, turning the Kindle into what Reuters called "effective vending machines" for Amazon goods.
One new feature on the tablets is the inclusion of a "Mayday" button that automatically directs the user to a live video chat with an Amazon tech support representative. The representative can give instructions on how to use the device and even perform functions on a user's Kindle Fire remotely. The service is free with the purchase of one of the new tablets. "You shouldn't have to be afraid of your device," Amazon CEO Jeff Bezos said during a release presentation, according to Fox News.
Here's Amazon Marketing Vice President Neil Lindsay explaining some of the new features.
"We think this will be a game-changer," Bezos said of Mayday in an 
interview with Business Insider
. "It's a whole new way to do tech support. Nothing like this has ever been attempted before. It is the kind of thing that Amazon is uniquely well-suited to do. It marries high-tech and heavy lifting, which, if you look at our history for even five minutes, you would know is one of the things we have uniquely done in this industry."
The Mayday feature and other functions on the new Kindles depend on Amazon providing the hardware, operating system, apps, and cloud infrastructure for the devices all by itself. But that closed system also brings one of Amazon's biggest challenges — that popular apps from Apple and Google (NASDAQ:GOOG) aren't available in its Appstore. Apps like Gmail, Google Maps, and iTunes are all currently unavailable on Kindle tablets.
Bezos said the Kindle Fire may become a more open platform in the future, but wouldn't nail down any specifics. "We are open to that, but I don't want to speculate on the future," he said to Business Insider on the possibility of including apps from competitors.
According to consumer tech analyst Stephen Baker from NPD Group, the reduced prices will give Amazon an edge on Apple. "That's where that model needs to be priced," Baker said to Fox News about the $139 7-inch Kindle Fire HD. Baker believes the pricing on the new models will do more to help Amazon grab market share from Apple than the new features on the Kindle Fire HDX models.
According to research from NPD, Apple's iPad had 48 percent of U.S. tablet market share from May through July, followed by the Kindle with 17 percent, and Samsung's (SSNFL.PK) Galaxy line running on Google's Android operating system with 8 percent.
Amazon's aggressive pricing and dedication to customer service could help the Kindle gain some market share from Apple during the holiday season — the time of year when the most Kindles are typically sold — but despite the cool functions and much-improved specs, it's still a big question whether consumers will want to pay for a tablet that doesn't allow them to access the most popular apps from Apple and Google.
Follow Jacqueline on Twitter @Jacqui_WSCS
Don't Miss: Here's How iOS 7 Takes the Cake in the Hunger Games: OS Edition