Can Nike Copy Apple's App Store Success?

Can Nike (NYSE:NKE) learn from Apple's (NASDAQ:AAPL) App Store experience as it also tries to attract app developers to its FuelBand device? Although Nike is known primarily as a maker of athletic shoes and clothing, the company has recently been trying to delve further into the technology industry with products like its activity-monitoring FuelBand device.
Now Nike is hoping to mimic the success of Apple's App Store by encouraging developers to create apps for its FuelBand device in the same way that Apple used the App Store to build up a platform of apps around the iPhone. According to the Wall Street Journal, Nike recently sequestered a group of developers from ten start-up companies and provided them with aggregate data from FuelBand users in a concentrated effort to encourage them to build more applications for the device.
Nike and Apple have long had a close relationship since Apple CEO Tim Cook also serves on the board of directors at Nike. Now the sports accessories company is hoping that some of Apple's technology mojo will rub off on its effort to create a popular ecosystem of apps around its FuelBand product.
Some analysts feel that Nike may have already missed its opportunity in this field. In 2006, Apple and Nike collaborated on creating Nike Plus, an activity monitoring device that synched with the iPod. However, Nike failed to build on its initial popularity and athletes who adopted the device soon migrated to other companies' products that utilized a more accurate global-positioning system.
However, Nike is taking steps to avoid the mistakes of its previous tech product ventures. In 2010, it created a separate digital sports division to focus solely on its tech-centered products.
The success of Nike's FuelBand app venture may depend on how quickly it can get those apps to market. Stefan Olander, Nike's head of digital sport, seems to understand the urgency. Olander told the Wall Street Journal that, "The more uses there are for the FuelBand, the more it becomes something you will never take off."
Here's how Apple and Nike stock is trading today.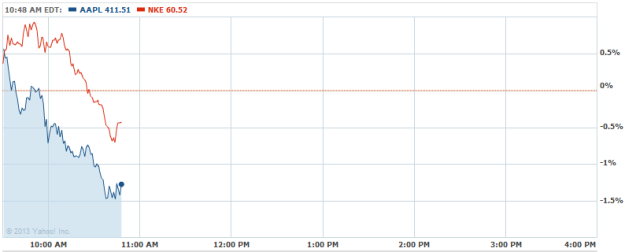 Don't Miss: GM Throws the Pickup Gauntlet Down Before Ford.
Follow Nathanael on Twitter (@ArnoldEtan_WSCS)