Can the iPhone Replace Professional Photojournalists?
Will Apple's (NASDAQ:AAPL) iPhones soon become standard-issue equipment for journalists? The Chicago Sun-Times newspaper has recently eliminated its entire staff of photographers and will instead be relying on reporters using iPhones to supply the photo content for its publication.
According to a Chicago Sun-Times memo acquired by Time Out Chicago blogger Robert Feder, reporters will receive mandatory training on "iPhone photography basics."
"In the coming days and weeks, we'll be working with all editorial employees to train and outfit you as much as possible to produce the content we need," writes Chicago Sun-Times managing editor Craig Newman.
Although some commentators believe this is part of an inevitable trend towards a more cost-efficient media, others are lamenting the loss of this important aspect of traditional journalism. Chicago Tribune photographer Alex Garcia believes "the idea that freelancers and reporters could replace a photo staff with iPhones is idiotic at worst, and hopelessly uninformed at best."
Garcia questions whether reporters have the skills to take good photographs, but also questions the photographing capabilities of the iPhone. "An iPhone is just an iPhone. It doesn't have a telephoto to see way past police lines or across a field, ballroom or four-lane highway. It doesn't have a lot of manual controls to deal with the countless situations that automatic exposure will fail to capture. How many situations are 18 percent gray, anyway?" writes Garcia.
On the other hand, most people always have their iPhones handy, which makes it makes it a convenient tool for documenting breaking news as it happens. However, whether or not you believe a reporter's iPhone can aptly replace a professional photographer, it does appear to be a growing trend. Cult of Mac notes that TIME Magazine reporters used their iPhones to document the aftermath of super-storm Sandy.
Apple closed down 0.41 percent, or $1.85, at $449.73 on Friday. Here's how Apple has traded over the past week.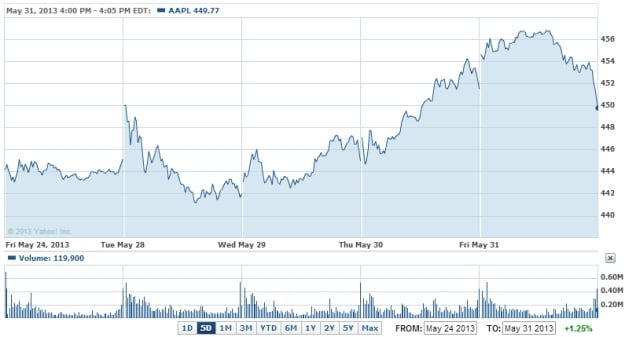 Follow Nathanael on Twitter (@ArnoldEtan_WSCS)
Don't Miss: Did This Supplier Reveal the iPhone 5S Launch Date?