Can This App Keep Big Brother Out of Your iPhone?
Is this new iOS application the best answer to the government's intrusive snooping programs? Ever since the Washington Post broke the story of a secret National Security Agency program known as PRISM, communication privacy has become an increasingly important topic in the national conversation.
A new iOS app from software development company Seecrypt may have the answer for Apple (NASDAQ:AAPL) users who are wondering how to protect the privacy of their mobile communications. Seecrypt offers Apple device users a double-layer, end-to-end military-grade encryption on their voice calls and text messages.
The app offers the maximum level of privacy protection by creating a unique key for every new call or message. It also consumes a relatively low amount of data compared to other standard voice applications. However, Seecrypt only works with other Seecrypt-enabled devices. So in order for it to work, a user must convince all their contacts to also download the app.
As an incentive to use the program, Seecrypt offers first-time users a free 3-month trial period, after which the service costs $3 a month. However, users can extend their free trial for up to a year by referring new subscribers.
Via MacDailyNews, Seecrypt CEO and co-founder Mornay Walters states, "For smartphone users who value their privacy, Seecrypt Mobile provides an unmatched level of protection. From personal to business users alike, whether at home or on the road, we think they'll find the service invaluable."
The company notes on its official website: "Internet advancements come at a terrible price. Big Internet companies, dealing in big data, make a living off of your personal data." Seecrypt's website also includes a prescient video of CIA CTO Ira Hunt telling an audience at an industry event, "Mobile is not secure."
The Seecrypt app is available as a free 12.9 MB download from the iTunes Store. Seecrypt is also available for download on Android-based mobile devices.
Here's how Apple traded on Monday: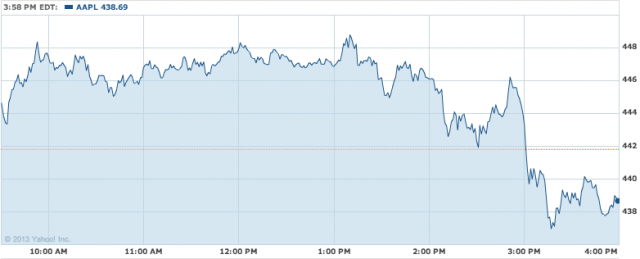 Follow Nathanael on Twitter (@ArnoldEtan_WSCS)
Don't Miss: Is Apple Lying About Its Involvement in Government Surveillance?