Carl Icahn Reveals 'Large Stake' in Apple and 2 More Heavily Traded Stocks to Follow
Apple Inc. (NASDAQ:AAPL): Current price $491.46
Activist investor Carl Icahn said Tuesday that he now has a "large stake" in Apple, a company he considers extremely undervalued. The billionaire, who is well known for pushing aggressively for corporate change, said on Twitter that he discussed a larger buyback program with Apple CEO Tim Cook, tweeting: "Had a nice conversation with Tim Cook today. Discussed my opinion that a larger buyback should be done now." In any case, Apple shares are up over 4 percent in late afternoon trading.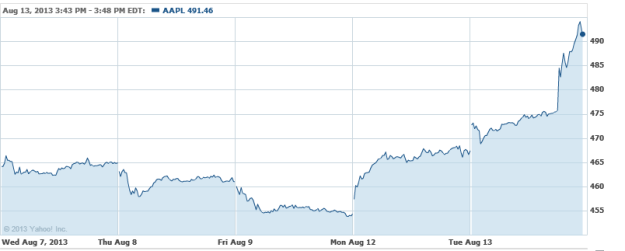 Microsoft Corp. (NASDAQ:MSFT): Current price $32.24
Noting Microsoft's Windows operating system business, weakness in the PC market following a disappointing fiscal fourth-quarter report on July 19, and the company's announcement on July 11 that it plans to reorganize with a focus on "devices and services," Brad Reback at Stifel Nicolaus lowered his rating on shares from Buy to Hold on Tuesday, and pulled back his $36 price target after reducing his estimates for 2013 and 2014 to reflect his belief that Microsoft will have to slash prices for Windows and also raise operating expenses.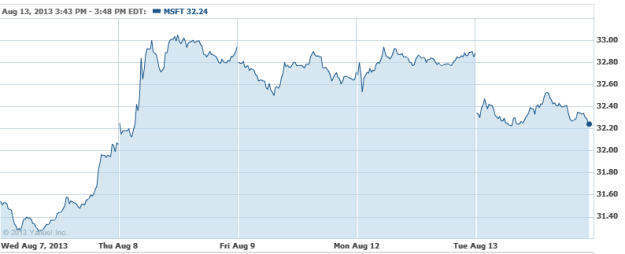 Sirius XM Radio Inc. (NASDAQ:SIRI): Current price $
Sirius announced Tuesday that top Spanish-language radio personality Eddie "Piolin" Sotelo will debut a new entertainment channel on SiriusXM, anchored by his own daily morning-drive show, El Show de Piolin. Piolin will host the live four-hour call-in show, building on the format that made him the top Latino radio host in the United States, according to a company press release.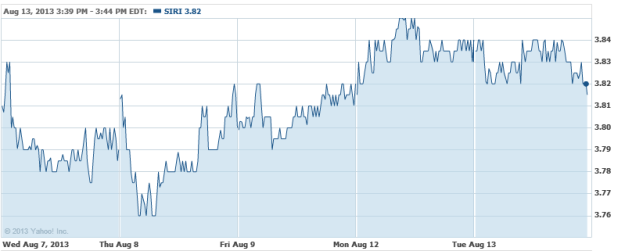 Don't Miss: Analyst: Apple Needs Low-End iPhone.