CBS Is Going Mobile, Facebook Looks at Teens: Market Recap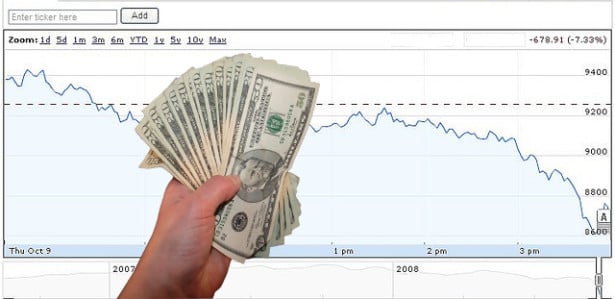 U.S. stocks fell during trading on Thursday as investors reacted to signs that the Federal Reserve may begin tapering stimulus sooner than expected. Some economists are predicting that the central bank could start cutting its bond purchases as soon as December. Meanwhile, investors are still watching companies' third-quarter earnings results.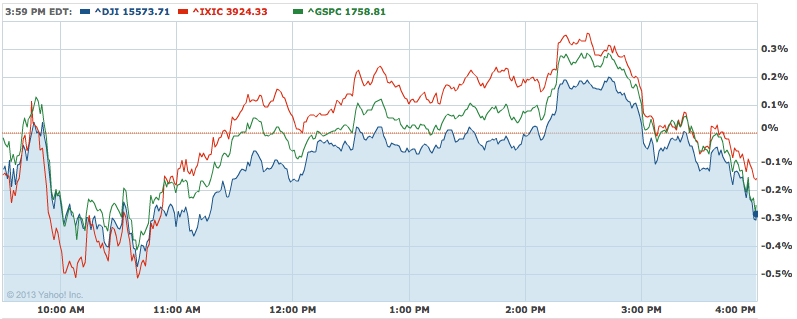 Gold: -1.92% to $1,324.20 per ounce; Oil: -0.48% to $96.31 per barrel; U.S. 10-Year: +0.59 to 2.542%.
Tick Tock Goes the Taper Clock: In a move the surprised no one, the Federal Open Market Committee concluded its October meeting on Wednesday with a decision not to ease its bond-buying program. Like it said in September, the FOMC sees improving economic conditions but "decided to await more evidence that progress will be sustained before adjusting the pace of its purchases"… (Read more.)
Jobless Numbers Still Suggest Sluggish Labor Market: Initial claims for unemployment benefits dipped for the third consecutive week. Department of Labor data showed that in the week ended October 26, jobless claims dropped by 10,000 to a seasonally adjusted 340,000. First-time claims for unemployment benefits edged up earlier this month thanks in part to three consecutive weeks of technical problems in California, which caused delays in application processing… (Read more.)
7 Members of Congress Who Will Determine the American Budget: A joint committee consisting of 29 members of the House of Representatives and the Senate began work on Wednesday to try and draft a budget for this fiscal year. In today's political climate, in which both sides have taken a partisan line, that is certainly no easy task. When the past year's budget expired on October 1, the government entered into a state of shutdown that would last for more than two weeks… (Read more.)
Here's your cheat sheet to today's top stocks stories.
CBS Corp. (NYSE:CBS) is rumored to be testing a new type of news packaging that it hopes will help it take advantage of the obsession with mobile. Bloomberg Businessweek reports that CBS is working to launch a streaming digital product that could deliver CBS News's content directly to mobile phones and streaming devices likes Apple (NASDAQ:AAPL) TV, Roku, Microsoft's (NASDAQ:MSFT) Xbox, and Sony's (NYSE:SNE) PlayStation. Mirroring what ESPN (NYSE:DIS) has already done with sports, CBS News believes that consumers will show an interest in having the nation's news right at their fingertips via an app… (Read more.)
Facebook Inc.'s (NASDAQ: FB) daily active users in September averaged 728 million people, an increase of 25 percent from September 2012, according to Facebook's third-quarter earnings report. But in the earnings call, the company's CFO, David Ebersman, singled out data on teenage users. This is a difficult area to gauge, Ebersman said, because it requires relying on self-reported information that is "unreliable"… (Read more.)
Exxon Mobil Corp. (NYSE:XOM) reported third-quarter financial results on Thursday morning, beating expectations for revenue and earnings but still showing the strain of increased spending on drilling. Exxon Mobil posted revenue of $112.4 billion versus analyst expectations of $107.4 billion and last year's results of $115.1 billion for the same period. Exxon Mobil's earnings per share for the quarter came in at $1.79 versus expectations of $1.77 and last year's figure of $2.09. Exxon's profit fell 18 percent to $7.78 billion from $9.57 billion a year ago… (Read more.)
Bank of America (NYSE:BAC) revealed in a Q-10 filing with the Securities and Exchange Commission that the U.S. Attorney's office intends to recommend that the DoJ file a civil action against affiliates of Bank of America — chiefly, Countrywide Financial, a troubled lender that Bank of America bought for $4 billion in 2008 — related to the securitization of residential mortgage-backed securities. The lawsuit recommendation is just the latest in a long string of legal suits brought against Bank of America… (Read more.)
Boeing Co. (NYSE:BA) announced Thursday that it will up the production of its 737 jets from the 38 per month it currently builds to 47 per month by 2017, which would put Boeing ahead of European rival Airbus in terms of single-aisle jet production. According to a report from The Wall Street Journal, Airbus currently makes 42 units of its 737-competing A320 jets per month. The increase shows that Boeing is confident that demand for the fuel-efficient jets will continue to be high in the coming years… (Read more.)
Nightmare on Wall Street: 3 Scary Stocks to Avoid: The stock market has been handing out treats to investors all year. Nearly five years after stocks hit a major bottom in the wake of the worst financial crisis since the Great Depression, the market continues to climb to new all-time highs. However, there are still some nightmares on Wall Street that investors may want to avoid… (Read more.)
Follow Jacqueline on Twitter @Jacqui_WSCS
Don't Miss: Facebook Earnings Give Shareholders Another Reason to Believe.