Chart of the Day: AAPL vs AMZN
The Dow Jones Industrial Average (NYSEARCA:DIA) and S&P 500 (NYSEARCA:SPY) both logged a record January, but it was a rotten month for the world's largest tech giant.
Shares of Apple (NASDAQ:AAPL) declined 14.4 percent in January, making it the worst performer in the S&P 500 year-to-date. Shares plunged 12 percent in a single-day after announcing financial results for its fiscal first quarter. The move was rather frustrating for shareholders, as Apple's quarter was one of the best in history. In fact, ExxonMobil (NYSE:XOM) is the only company to report higher earnings for a quarter than Apple.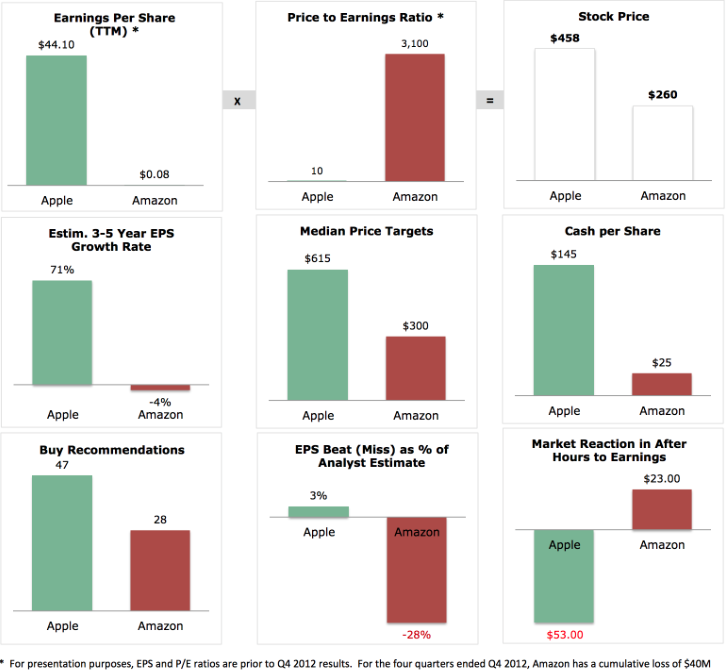 Other tech companies such as Netflix (NASDAQ:NFLX) and Amazon.com (NASDAQ:AMZN) have easily outperformed Apple in recent months. Making matters worse, Mr. Market continues to overlook any potential problems in Amazon, while constantly doubting Apple. As the chart above from Fortune shows, the difference between the iGadget maker and the world's largest online retailer could not be more clear.
Perhaps shareholders can take comfort in knowing that Mr. Market suffers from wild mood swings, but his condition can change at any moment.
Don't Miss: Facebook: Still Expanding its Message Around the World