Chart of the Day: These 5 American Giants Lead the Way
The most hated stock rally in history continues to defy gravity. Record low interest rates and several quantitative easing programs from the Federal Reserve have proven to be a winning combination for Wall Street. In addition to higher equity prices, America once again has the biggest companies in the world.
All three major indices gained nearly 2 percent in April. The Dow Jones Industrial Average closed higher for the fifth consecutive month and is off to its best start to a year since 1999. Meanwhile, the S&P 500 and Nasdaq both posted their sixth consecutive monthly gains, their best streak since the beginning of the bull market in 2009. Strangely, the Dow has climbed higher for 16 straight Tuesdays.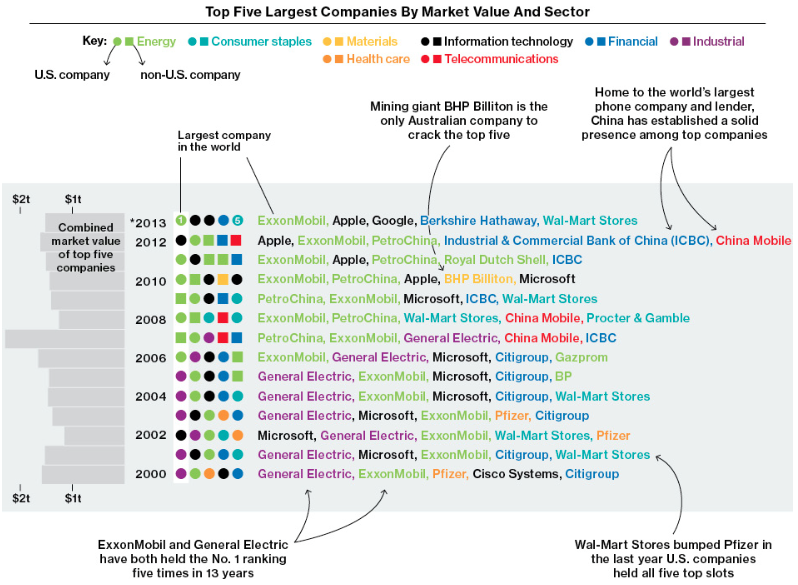 As the chart above from Bloomberg Businessweek shows, the rebound in stock prices has catapulted domestic companies to the top of the world rankings.
For the first time in eight years, the five biggest companies in the world by market value are American. Oil giant ExxonMobil (NYSE:XOM) leads the way, followed by Apple (NASDAQ:AAPL), Google (NASDAQ:GOOG), Berkshire Hathaway (NYSE:BRKA), and Wal-Mart (NYSE:WMT).
PetroChina, one of the three Chinese-based companies to make the top five in 2012, fell to Number 6. Meanwhile, Microsoft (NASDAQ:MSFT) has not made the top five since 2010.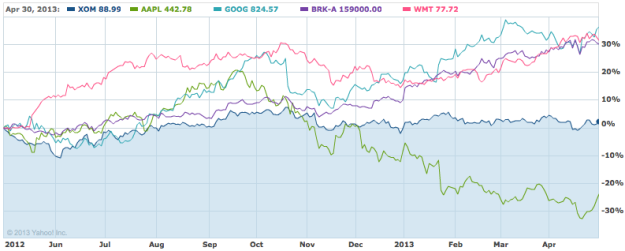 Although ExxonMobil had the biggest market cap at the time of the rankings, Apple has reclaimed the top spot as shares have jumped almost 10 percent in one week. Over the past year though, shares are down 24 percent. In the same time period, shares of Google, Berkshire Hathaway, and Wal-Mart have all gained more than 30 percent.
Don't Miss: Is the College Debt Bubble Starting to Crack?