Charts: Yelp Investors Not Impressed with These Results
Yelp (NYSE:YELP), which provides local business reviews and advertising, announced better-than-expected fourth quarter revenue, but the company still posted a loss amid growing expenses.
After Wednesday's closing bell, the San Francisco-based company reported a net loss of $5.3 million (8 cents per share) for the three months ended December 31, 2012, compared to a net loss of $9.1 million (56 cents per share) a year earlier. Revenue surged 65 percent to $41.2 million, compared to $24.9 million in the fourth quarter of 2011. Analysts on average projected a loss of 5 cents per share on $40 million in revenue.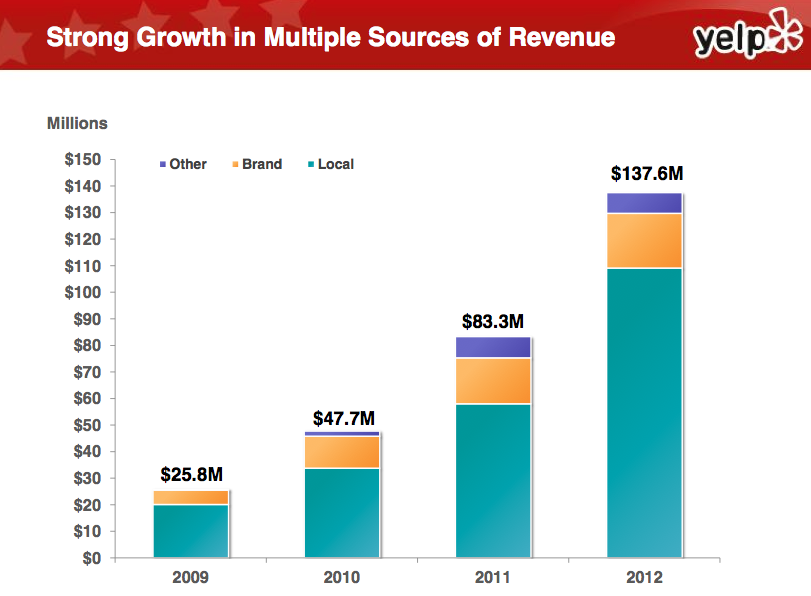 Net revenue for the full year came in at $137.6 million, up 65 percent from $83.3 million in the prior year. However, total cost and expenses jumped 57 percent for the year, resulting in a net loss of $19.1 million, worse than the $16.9 million loss in 2011.
The company remains upbeat…
"2012 was a tremendous year for Yelp," said Jeremy Stoppelman, chief executive officer. "We completed a successful IPO, launched new products to improve the Yelp experience for consumers and business owners, expanded into new markets while increasing our presence in existing ones, and completed our first acquisition. We believe 2013 will be a tipping point for our brand in Europe as Yelp continues to become a trusted local resource. Our mobile strategy will remain a top priority as engagement increases, and we will continue to focus on the business owner, creating more ways to measure the value of Yelp leads."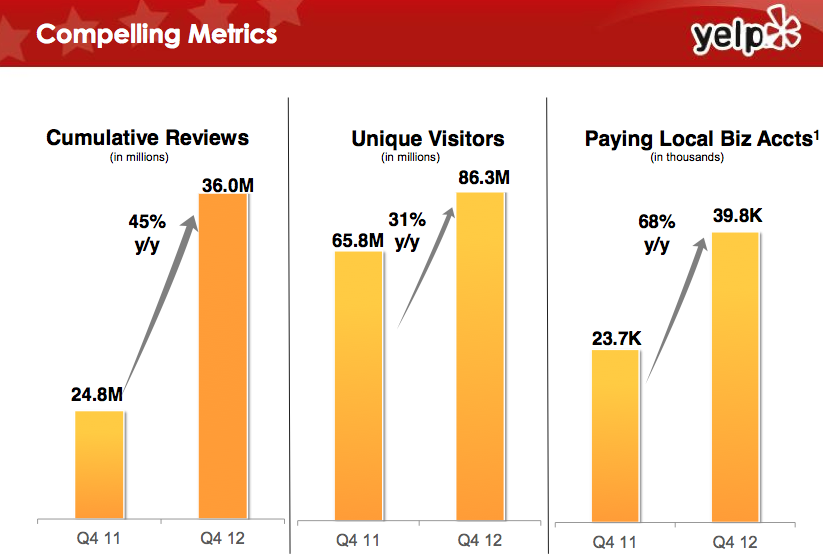 Even though Yelp continues to face increasing competition from Facebook (NASDAQ:FB), Google (NASDAQ:GOOG) and Yahoo (NASDAQ:YHOO), it expanded its presence significantly. In the fourth quarter, cumulative reviews on the site grew to 36 million, representing a 45 percent surge from a year earlier. Average monthly unique visitors increased 31 percent to 86.3 million. Meanwhile, active local business accounts jumped 68 percent to approximately 39,800.
Yelp continues to enter new markets…
Last year, Yelp increased its presence in Germany and the United Kingdom by acquiring  reviews site Qype for $50 million. The company also opened its first international sales office in London. With Yelp expanding into Poland and Turkey in the fourth quarter, the site is now in 20 countries around the world.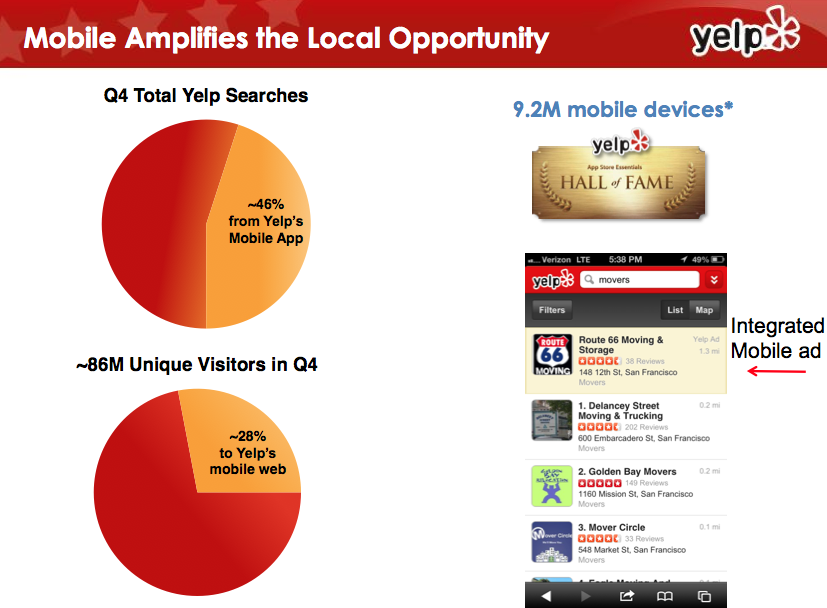 In the final three months of 2012, Yelp's mobile app was used on approximately 9.2 million unique mobile devices on a monthly average basis. The company also increased its brand distribution by providing integrated content into the new Apple (NASDAQ:AAPL) Maps application on iOS 6.
Yelp investors did not give the results a good review. On Thursday, shares of the company plunged more than 9 percent in morning trading.
Investor Insight: Are Facebook Users Becoming Less Interested?