Cheat Sheet: Gundlach's Year of the Snake 2013 Outlook
Jeff Gundlach, bond legend and founder of DoubleLine Capital, held his first conference call and presentation of the year last night. The event revealed his outlook on the global economy and various issues for 2013.
Here's your Cheat Sheet to Gundlach's "Year of the Snake" presentation, which is a play on words with the Chinese New Year and the market's likelihood to give us a bite or two this year.
Bonds:
Treasury bonds are not in a bubble when compared to other fixed income assets. However, investment-grade corporate bonds are the most overvalued when looking at history and he would not invest in European bonds.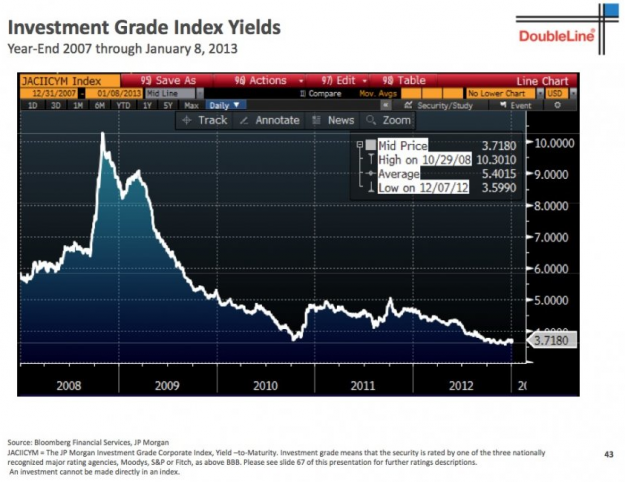 Start 2013 better than ever by saving time and making money with your Limited Time Offer for our highly-acclaimed Stock Picker Newsletter. Get our fresh Feature Stock Pick now!
Equities:
With the recent bounce in the Japanese stock market, "It's hard to be in love" with the Nikkei at today's prices. Although, he can see the index rising another 1,000 points, maybe 2,000 points. Gundlach says, "I like the Shanghai and I like the Nikkei. I know they're overbought, but so is the S&P 500."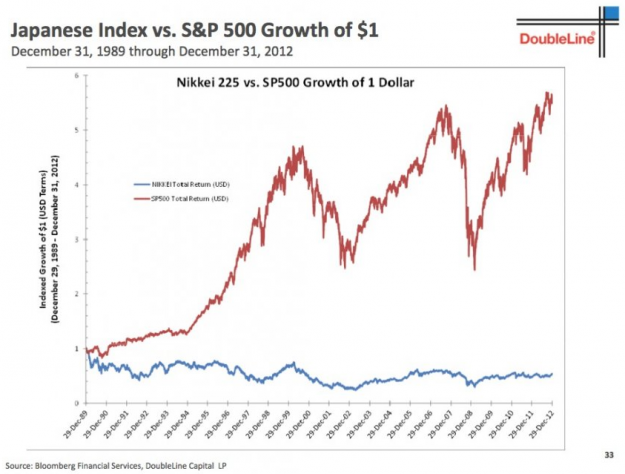 Big moves likely for Apple and gold…
Apple (NASDAQ:AAPL):
When asked about Apple, the largest publicly traded company by market capitalization, he reiterates his $425 price target and has a "very high conviction" that the tech giant breaks below $500 a share.
U.S. Dollar:
Gundlach believes Warren Buffett (NYSE:BRKA) is correct in that the U.S. should receive an AAAA credit rating if possible. The dollar finished 2012 basically unchanged and remarkably steady.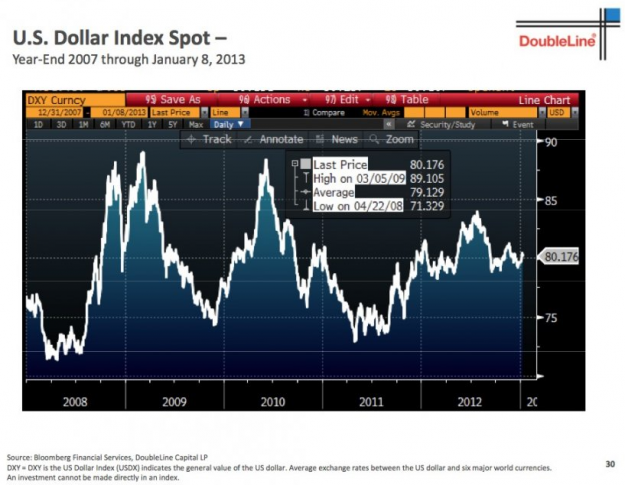 Precious Metals:
The price of gold (NYSEARCA:GLD) has been in consolidation mode, but Gundlach says, "It's very unlikely to go sideways for the next 14 months like the last 14 months." If gold breaks its long-term momentum, the price of the precious metal could correct to $1,300 or $1,400 an ounce. However, he says if gold goes higher, it could easily go way up. On a rise, you want to be in silver (NYSEARCA:SLV) due to the higher beta.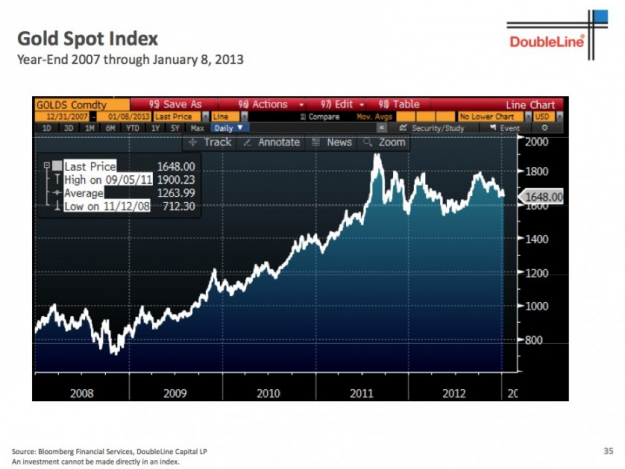 The unemployment picture is still ugly…
Domestic Jobs:
The United States currently has a headline unemployment rate of 7.8 percent and job losses are far worse than they have been in the previous recessions.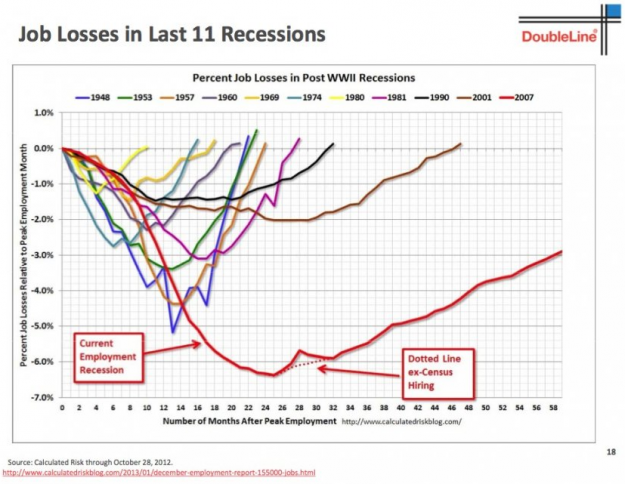 The Federal Reserve recently gave some investors a scare by showing a difference of opinion over bond purchasing programs, but when asked about the central bank ending QE, Gundlach says, "I don't make too much out of that." In previous appearances, Gundlach has stated that the Federal Reserve is more likely to buy all the Treasury bonds that exist than to start selling them."
The U.S. is not the only region with staggering amounts of unemployment…
Across the Pond:
Europe is dealing with record high unemployment levels of their own. As the chart below shows, unemployment in Spain and Greece is firmly above 25 percent. Gundlach says Greece is in a full-blown depression, while Portugal is getting close.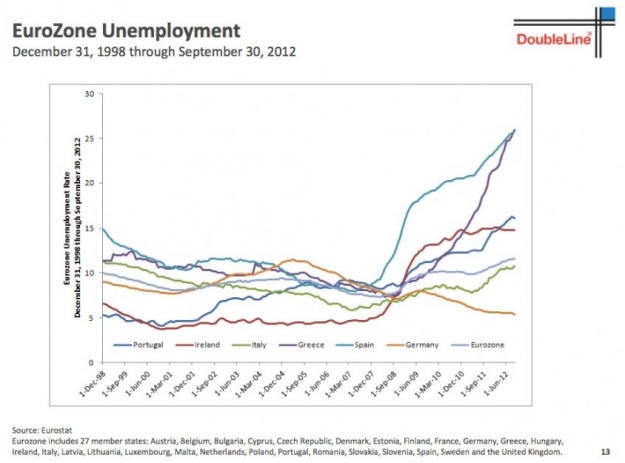 Something to keep in mind for earnings season…
Late Tuesday, Alcoa (NYSE:AA) reported fourth quarter financial results that topped revenue estimates. However, the following chart should remind investors that expectations have been declining for the past year.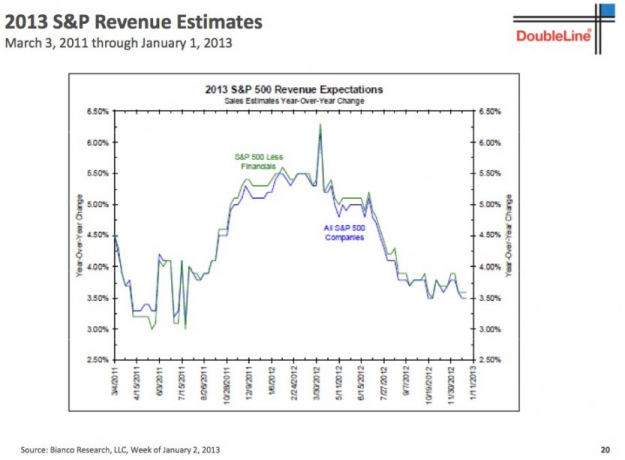 Investor Insight: Is the U.S. Debt Ceiling Really A Debt Target?