Chinese Smartphone Maker Introduces Knockoff of Apple's iPhone 5S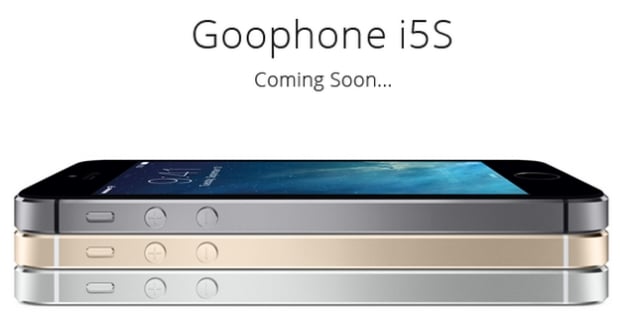 If imitation really is the sincerest form of flattery, then Apple (NASDAQ:AAPL) should feel very flattered by the new smartphone made by Chinese manufacturer GooPhone. The notorious Apple imitator recently unveiled its copycat version of Apple's iPhone 5S, reports Electronista.
As seen in the video below, the GooPhone i5S is quite clearly a copy of Apple's distinctive iPhone 5S. GooPhone even used the same gold-colored casing that Apple introduced for the iPhone 5S. The Chinese manufacturer went as far as aping the design of Apple's Touch ID fingerprint sensor, although it apparently only functions as a standard home button on the GooPhone.
Although the GooPhone i5S runs Google's (NASDAQ:GOOG) Android operating system, the designers liberally borrowed the design elements found in Apple's iOS 7, including the design of the app icons and the phone touchpad screen. However, GooPhone's designers were less successful in imitating the iPhone 5S interior.
According to GooPhone's technical specifications, the i5S features a 1.2-gigahertz dual-core processor, 1GB of RAM, and 16GB of storage. Although the device has a 4-inch display like the iPhone 5S, the similarity ends at the size. The GooPhone i5S only has a 960 x 540 pixel display, as opposed to the 1136 x 640 pixel display found on the iPhone 5S. The GooPhone i5S also features a 5-megapixel camera instead of the 8-megapixel found on the iPhone 5S.
However, the GooPhone i5S trounces Apple's iPhone 5S in one respect: price. According to GooPhone's website, the i5S retails for $199 unlocked, while Apple's iPhone 5S sells for $649 unlocked. Consumers who want an even cheaper phone will be happy to learn that GooPhone has already produced a knockoff of Apple's iPhone 5C as well. The unlocked GooPhone i5C sells for a mere $119.99.
This isn't the first time that GooPhone has blatantly copied Apple's devices. In 2012, GooPhone released a shameless knockoff based on Apple's iPhone 5 design. Incredibly, GooPhone actually threatened to block the sales of the iPhone 5 in China, using patents it filed that were based off leaked iPhone 5 designs.
Although the GooPhone is clearly copying Apple's designs, it is not known if the Cupertino-based company has taken any steps to block the sale of the GooPhone in China. It is unlikely that this device will ever be made available for sale in the U.S. due to obvious patent-infringement issues.
Here's how Apple traded last week.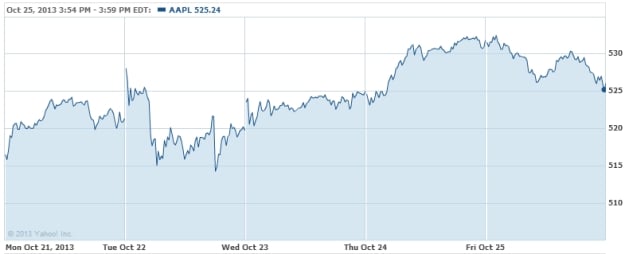 Follow Nathanael on Twitter (@ArnoldEtan_WSCS)
Don't Miss: Apple's Jony Ive Made a Special Mac Pro for a Good Cause.