Chrysler IPO Confuses Fiat, Boeing Loses Big Contract: Market Recap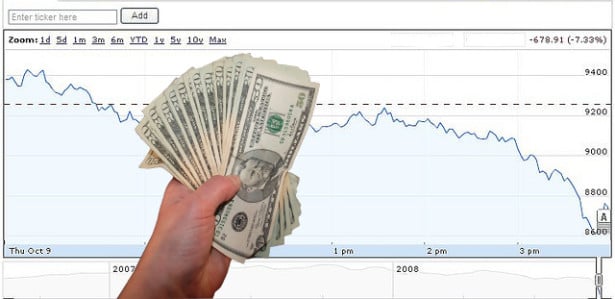 U.S. stocks fell for a fourth day in a row upon disappointing data on consumer confidence, which reinforced the Federal Reserve's concerns about overall economic recovery. The Conference Board index showed that consumer confidence fell to a four-month low in September. Investors are also closely watching the government's budget ceiling debate and statements from Federal Bank leaders around the country about when stimulus cuts will actually begin.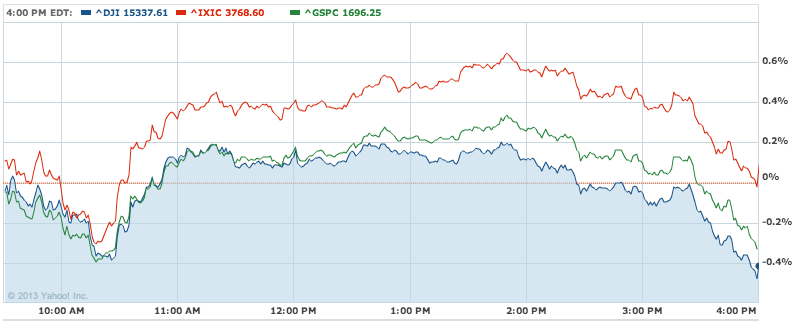 Gold: -0.37% to $1,322.10 per ounce Oil: -0.16% to $103.42 per barrel U.S. 10-Year: -2.25 to 2.653%
This Week, Consumers Lacked the Urgency to Shop: The month's retail sales growth put the struggles of the American consumer back in the spotlight, rising less than analysts had forecast. The 0.2 percent increase was the smallest gain in four months. Analysts had expected retail sales to increase 0.5 percent with help coming from back-to-school shopping.
Home Prices Hit Best Level Since March 2005: Home prices in the United States began the third quarter with more gains, but lower home affordability should not be overlooked. According to the latest Federal Housing Finance Agency report, home prices increased 1 percent on a seasonally adjusted basis in July compared to the previous month. The House Price Index has now logged 18 consecutive monthly price increases.
JPMorgan and Morgan Stanley Are Still Paying for Mortgage Mess-Ups: The National Credit Union Association, an independent federal agency tasked with oversight of federal credit unions, said Tuesday that it filed suit against a battery of major financial institutions for violations of federal and state antitrust laws, as well as the fraudulent sale of securities. Banks accused of wrongdoing include JPMorgan Chase (NYSE:JPM), Morgan Stanley (NYSE:MS), Credit Suisse (NYSE:CS), Barclays (NYSE:BCS), and Goldman Sachs (NYSE:GS).
Here's your cheat sheet to today's top stocks stories: 
Chrysler Group's filing for an initial public offering of the Chrysler family of brands on Monday has reportedly left Fiat SpA (FIATY.PK), reconsidering its backing of the Detroit-based automaker, Reuters says. Fiat is Chrysler's largest shareholder with a 58.5 percent holding in the company.
Citigroup (NYSE:C), the third-largest U.S. bank by assets and the sixth-largest mortgage lender in the first half of 2013, has joined the ranks of those financial institutions adversely affected by lowered demand for new mortgages and refinancing by announcing job cuts. Reuters reports that Citigroup will lay off about 1,000 jobs from its mortgage division. Most of the layoffs at Citigroup will be in the sales, underwriting, and fulfillment department.
Boeing Co. (NYSE:BA) has lost its lead in the race for a deal to supply South Korea's military with its F-15 Silent Eagle fighter jets. The Boeing deal had been considered a front runner over alternative offers from Lockheed Martin (NYSE:LMT) and Typhoon (TYPFF.PK) as it was the only option that came in under budget, but public pressure to invest in more advanced planes has caused the South Korean government to reconsider Boeing's craft, Reuters reports.
BlackBerry (NASDAQ:BBRY) announced Monday that it had reached a preliminary deal with Fairfax Financial Holdings to take the company private for around $4.7 billion, it wasn't a complete surprise. Fairfax is BlackBerry's biggest shareholder and the firm's chief executive, Prem Watsa, stepped down from BlackBerry's board in August, citing potential conflicts of interest and effectively provoking speculation about a possible future deal.
Apple's (NASDAQ:AAPL) weekend sales numbers were considerably higher than most analysts' expectations. Cantor Fitzgerald analyst Brian White said in a research note that his own prediction of 6 to 6.5 million units "was at the high end of expectations." For example, Piper Jaffray analyst Gene Munster had a more conservative estimate of 5.5 million units.
Facebook (NASDAQ:FB) is working with app developers and payment processors to make online purchases via mobile faster and easier. On Monday, the social network released its "Autofill With Facebook" option, a partnership with eBay's (NASDAQ:EBAY) PayPal, Braintree Payment Solutions, and Stripe to e-commerce sites JackThreads and Mosiac that allows users to autofill payment and shipping information via their Facebook profiles.
Don't Miss: Is Ben Bernanke the Best Fed Chairman in History?
Follow Jacqueline on Twitter @Jacqui_WSCS