Citigroup Earnings Shine, More iPhone 5S Rumors Arrive: Market Recap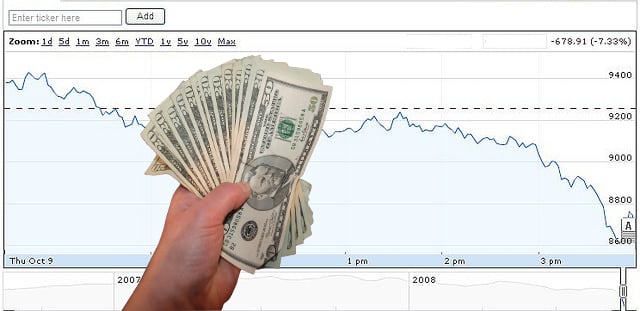 U.S. stocks rose today, giving the S&P 500 its eighth day of gains in a row on good earnings news from Citigroup Inc. (NYSE:C). Those strong results from Citigroup were enough to temper disappointing data on retail sales, which gained 0.4 percent compared with 0.5 percent in May.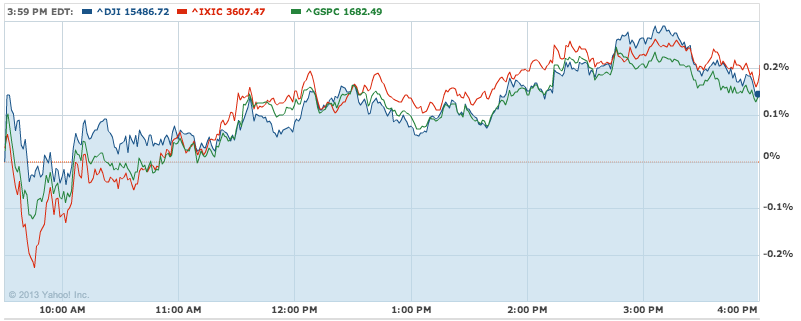 Gold: +0.46% to $1,283.50; Oil: +0.42% to $106.40 per barrel; U.S. 10-Year: -1.73 to 2.556%
Business Inventories Remain Trapped in the Dog Days: Caution continues to be the name of the game for the U.S. economy. Recent indicators have been anything but clear and overall business growth can be described as anemic. Manufacturing data released Monday morning showed marginal improvement in activity, although signs of softening global demand amount to clouds on the horizon… (Read more.)
Here's Why the American Consumer is Less Engaged: Retail sales figures released by the Department of Commerce on Monday showed consumer spending, which accounts for approximately 70 percent of the United States economy, may take some time to accelerate as Americans remain frugal to rebuild savings… (Read more.)
How Will Obamacare Affect U.S. Manufacturing?: Overall manufacturing conditions around the world have been underwhelming recently. Updates from regional Fed branches like the Empire State report suggest modest second-quarter growth at best. The JPMorgan Global Manufacturing Purchasing Managers' Index, an international gauge of manufacturing conditions, remained flat in June at 50.6… (Read more.)
Here's your cheat sheet to today's top stocks stories:
Verizon Wireless (NYSE:VZ) devices that the company sells to boost signal strength indoors can reportedly be hacked to reveal information detailing the activity of any phone using the device for its signal, according to two security researchers. The researchers who discovered the flaw, Tom Ritter and Doug DePerry, demonstrated it to Reuters, showing how they could gain access to texts, photos, and phone calls… (Read more.)
Apple's (NASDAQ:AAPL) iPhone 5S is the company's next big chance to prove to investors that it still has the spunk that lead to its soaring stock last year. Maybe — just maybe — an iPhone 5S will go into production before the end of this month. Jeffries analyst Peter Misek said that the device will, but he hasn't always been accurate in his predictions… (Read more.)
Boeing Co. (NYSE:BA) faced yet another setback Friday in its 787 Dreamliner's series of unfortunate events, and people everywhere questioned the future of the disaster-ridden aircraft manufacturer. The fire that broke out on an Ethiopian Airlines plane in London at Heathrow Airport caused the 787s to garner more poor pre-weekend publicity… (Read more.)
Citigroup (NYSE:C) stock jumped nearly 2 percent in early trade on Monday after the bank reported second-quarter earnings that beat analyst estimates. Revenues climbed 11 percent on the year to $20.5 billion, beating the average estimate of $19.79 billion. Adjusted earnings climbed 25 percent on the year to $1.25 per share, beating the average estimate of $1.18 per share… (Read more.)
AT&T Inc. (NYSE:T) is aiming for a European expansion, according to sources close to the telecommunication company's executive team. CEO of the second-largest U.S. wireless carrier, Randall Stephenson, has allegedly directed key staff to develop an acquisition "wish list" of potential European wireless carriers, including Telefonica S.A. (NYSE:TEF) and Vodafone Group PLC (NASDAQ:VOD)… (Read more.)
Microsoft (NASDAQ:MSFT) is rumored to be testing a prototype of a new smart watch. AmongTech is reporting that the device will offer wristbands in a variety of colors and outside housing made of a special type of aluminum that's four times harder than glass and still transparent… (Read more.)
Follow Jacqueline on Twitter @Jacqui_WSCS
Don't Miss: The Top 10 Brands in America Make Impressive Stock Gains.