Closer Look: What Do Apple's 1Q Numbers Mean?
Apple (NASDAQ:AAPL) released its first-quarter fiscal 2013 results after the bell on Wednesday, and the bad news bears came running. Shares dropped as much as 10.5 percent in after-hours trading to $460.00 as expectations collided with reality, resulting in disappointment.
Speculation always moves a stock, and this quarter brewed a perfect storm of confusion around Apple. Analysts openly disagreed on how much the stock was worth and dubious reports alternatively suggested that Apple was facing production issues or drowning in demand.
At the end of the day, Apple logged a 17.7 percent year-over-year revenue increase to $54.51 billion. Apple's first quarter includes the holiday shopping season, so a 51.6 percent quarter-to-quarter sales increase is impressive, but artificially inflated. Earnings came in at $13.81 per share, beating average estimates by about 35 cents, and coming in well ahead of the company's own guidance of $11.75.
The stock's killer seems to be that expectations were overall inaccurate. Considerable growth in a rapidly-changing, highly-competitive industry was overshadowed by enormous confusion. So, in order to lift the veil a bit, we took a look at Apple's sales performance last quarter, sans analyst clout. Here are the numbers, broken down…
The sales figures for Apple's four main devices — iPhone, iPad, Mac, and iPod — are as highly watched as anything on the income statement. This breakdown allows investors to see where the demand is, and where the company should be focusing its attention in order to generate sales. Observing the differences between these sales quarter to quarter can help provide insight into trends in consumer electronics.
For example, Apple sold 51.1 million total devices (sum of the main four) in the July-September quarter. Sales volume grew 71.2 percent to 87.5 million in the most recent quarter. Again, this is artificially inflated because of seasonal changes in sales volume, but still rather impressive. Apple sold 26.9 million iPhones in the fourth quarter of fiscal 2012, and it sold 47.8 million in the first quarter of fiscal 2013, a 77.7 percent increase in volume, but not at all indicative of whether or not people are actually buying more phones, on average.
By looking at the ratio of iPhones sold relative to other products, it's easy to see that iPhones grew in popularity, relative to other products, on a quarter-to-quarter basis. This is interesting, but still gives an incomplete picture…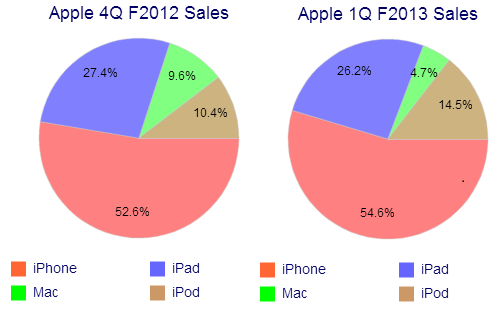 Year-over-year comparisons neutralize many of the effects of seasonal changes in demand. Here's a quick look at Apple's first-quarter fiscal 2013 sales composition compared to its first-quarter fiscal 2012 sales composition.
At a glance, it's easy to see that Apple sold more iPads and fewer Macs. A few reasons why were brought up in the earnings call, and the reality is probably some mix of cannibalization (not a bad thing, according to CEO Tim Cook) and consumers waiting for the newest generation of the device, which went on sale at the very end of the previous quarter.
It's also easy to see a drop in the number of iPod sales as a proportion of total sales. This is not necessarily revealed in the quarter-to-quarter comparison, where iPods grew as a percent of total sales, probably because of seasonal holiday demand for that particular product.
Of course, these sales comparisons don't offer a complete picture of the company or its performance. But this is the information that investors know — hopefully factual because it is provided by Apple itself — and can use to reach their conclusions.
The graphs below give a good overall impression of the company, but they do not necessarily demonstrate how well each sector is performing, only how well they are faring compared to other sectors. But doing a little math, we find that Apple sold 48.7 percent more iPads, 21.1 percent fewer Macs, 17.5 percent fewer iPods, and 29.1 percent more iPhones in the first quarter of fiscal 2013 than in the first quarter of fiscal 2012. It's clear, then, that iPads and iPhones are where Apple's future lies, but will they be able to maintain strong enough rates of growth to make up for diminishing sales of iPods and personal computers? The figures can't really tell us that, and the fact that Apple gave no guidance might not be cause for concern, but rather evidence of how difficult it is for anyone to predict where this train lets off.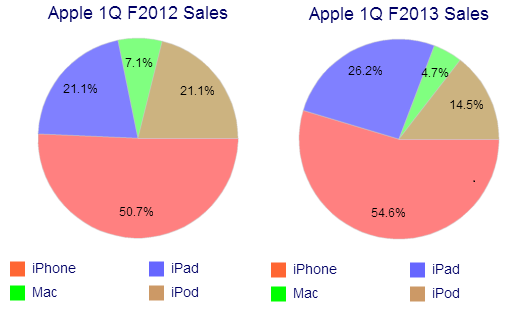 Don't Miss: Apple's Mixed Results Send Some Investors Running.