Cook Stays Secretive on Apple TV and iWatch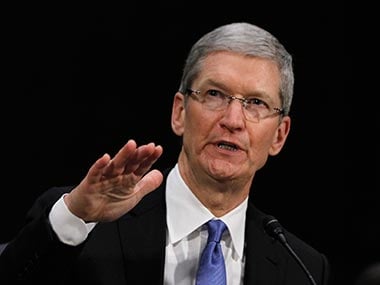 Will Apple (NASDAQ:AAPL) soon be stepping into the wearable tech market? Pundits and Apple watchers who were hoping to get some answers to this question at the All Things D conference in Palos Verdes, California, this week were sorely disappointed. Apple CEO Tim Cook kept his cards close to his chest when it came to discussing Apple's future plans for this lucrative market.
When asked if the company would be a part of the "post-PC era wearable" tech market, Cook simply showed the audience at the All Things D conference that he was wearing a Nike (NYSE:NKE) FuelBand that is compatible with iOS. However, Cook also noted via CNET that "there is nothing great out there that I have seen, or will convince a kid who has never worn watches or a band or glasses to wear one. There are lots of things to solve, it's ripe for exploration."
Cook's comment seemed to knock both the idea of wearable tech glasses as well as wearable tech watches. Cook made an elliptical reference to Google (NASDAQ:GOOG) Glass when he observed that he "doesn't know a lot of people who wear glasses who don't have to — and those who wear them want them to be light, unobtrusive, and fashionable."  This seemed to be a direct reference to Apple's Mountain View-based tech rival, whose Google Glass product is anything but "unobtrusive" and "fashionable."
However, Cook also seemed to think that watches were a better avenue for introducing wearable technologies. No matter what type of wearable tech product a company makes, "You have to convince people it's so incredible you want to wear it," observed Cook. Rumors of Apple's smart watch development have been around since December of last year.
Cook was similarly tightlipped about a possible revamping of the Cupertino-based company's Apple TV device. Although Cook was happy to brag that the company had sold over 13 million Apple TV devices, he declined to elaborate on the company's future plans for it, ending the conversation by stating: "I don't want to go any further on this — I don't want to give anyone any ideas that they don't have."
Cook kept his comments about Apple's future product plans appropriately vague as the CEO of one of the most secretive companies in the industry. He called the wearable tech market a "profoundly interesting" one. "Lots of companies will play in this space," observed Cook. However, whether or not Apple is one of those companies is a question that still remains unanswered.
Here's how Apple has traded so far this week: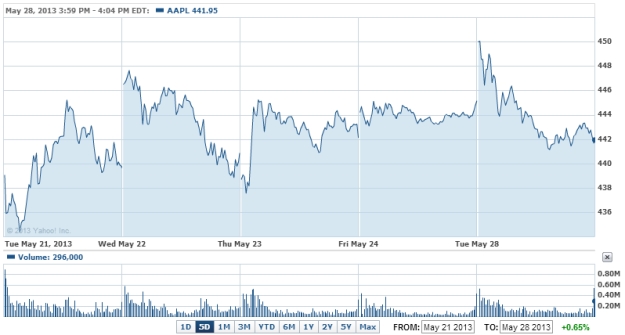 Follow Nathanael on Twitter (@ArnoldEtan_WSCS)
Don't Miss: Are Tablets the Future of Personal Computing?