Cook's New Apple Pay Package Puts Money Where His Mouth Is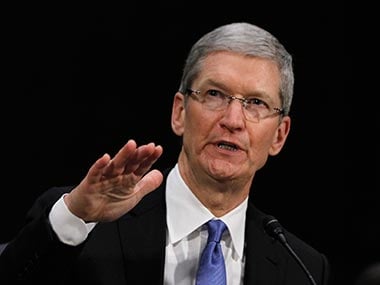 Apple (NASDAQ:AAPL) has altered Tim Cook's compensation package so that the CEO has an even greater stake in the success of the company. In a filing made with the SEC on Friday, Apple states that, "Mr. Cook is leading this initiative by example and has the full support of the Board of Directors."
Apple's Compensation Committee made the changes after "outreach discussions this year with many of our largest shareholders."  The new performance-based compensation changes affect Cook's future restricted stock units, or RSUs.
However, Cook decided to go even further than what the Committee was requesting. The filing notes that Cook personally requested that the new changes apply retroactively to his "2011 CEO equity award as well as any potential future awards."
Cook's original 1 million RSU deal would have allowed him vest half of those shares in 2016 and the other half in 2021. According to the terms of the original contract, Cook would have reaped a substantial profit regardless of how the company stock was performing. However, now 50 percent of Cook's RSUs are directly tied to specific performance targets and are "at risk in each future annual performance-based tranche."
Apple's stock performance will be judged by comparison with the "total shareholder return," or TSR, of other companies in the S&P 500. Per the filing, "If Apple's performance is within the top third of that group, the RSUs in the tranche for that year will vest in full. If its performance is in the middle third, the RSUs in the tranche for that year will be reduced by 25 percent, and if its performance is in the bottom third, the RSUs in that tranche will be reduced by 50 percent."
The move demonstrates Cook's serious commitment to Apple's shareholders as well as a strong faith in the future profitability of Apple's products. After all, the Committee notes that "Cook faces only downside risk from the modification."
In other words, if the company achieves the performance targets laid out in the new deal, Cook will receive the amount he would have gotten under his original deal. However, if the company fails to achieve those goals, Cook could lose up to 50 percent of his total RSU compensation package.
Here's how Apple closed out on Friday.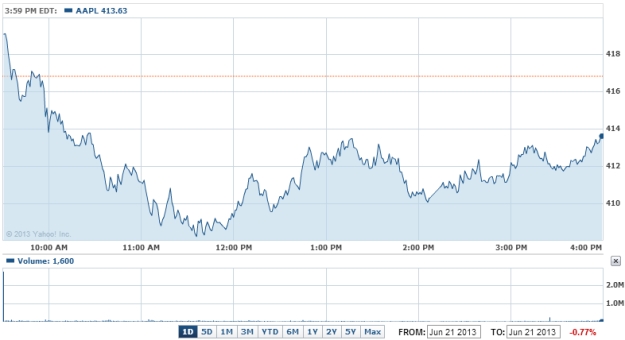 Follow Nathanael on Twitter (@ArnoldEtan_WSCS)
Don't Miss: What Is This Company Suing Apple Over?