Could a Lack of Subsidies Boost iPhone Sales?

Will sales of Apple's (NASDAQ:AAPL) iPhone get a boost even as telecom operators slash subsidies? It's a well-known fact that an OEM will usually partner with a wireless carrier in order to create a lower overall entry cost for customers buying a smartphone. Most markets subsidize the actual cost of a device by having the customer sign a service contract that typically lasts for two years.
However, as the U.S. smartphone market becomes increasingly saturated, carriers are shifting more of the actual cost of smartphones onto their customers. Although the evolving smartphone market is obviously affecting carriers, it is not entirely clear how these changes will impact smartphone makers. In an interview with Alison Southwick at The Motley Fool, commentator Doug Ehrman outlines why he believes Apple may actually benefit from the end of smartphone subsidies.
"As customers see the writing on the wall and see that phone subsidies are coming to an end, I think that a lot of them are going to run out and upgrade right now which will drive sales of the iPhone 5 before even the release of the iPhone 5S," Ehrman told The Motley Fool.
Earlier this year, T-Mobile began selling phones to new subscribers for the unsubsidized prices. However, the carrier also lessens the initial high cost of the phone by making it a monthly fee. More recently T-Mobile introduced the "JUMP" upgrade plan that allows its subscribers to get a new phone every six months for a $10 per month fee.
This new upgrade plan could boost Apple's iPhone sales as consumers no longer have to worry about becoming trapped in a service plan with an outdated phone. Sales of the iPhone typically decline right before a new model is expected to launch because customers don't want to get stuck with an older model.
Ehrman also notes that this new sales paradigm may give Apple an incentive to speed up its "slower product cycle." Here's how Apple closed out the trading week.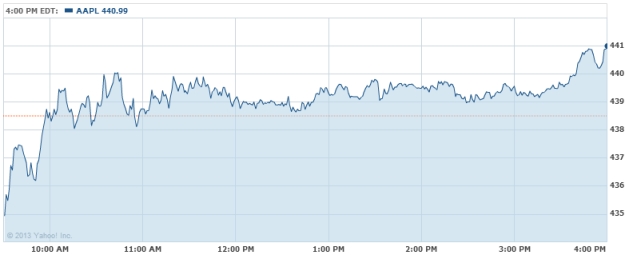 Follow Nathanael on Twitter (@ArnoldEtan_WSCS)