Could Android Soon Take This Crown From Apple?
Apple (NASDAQ:AAPL) continues to be the leader in app revenue, earning 350 percent more than Google (NASDAQ:GOOG) Play just in December, but the Android app marketplace is gaining ground fast by growing at a much faster pace.
According to data from research group App Annie, Google boosted revenue from mobile applications more than six times in 2012 on the back of growing sales of smartphones running Android. Apple's App Store less than doubled, but its growth in absolute dollars was still higher than Google's.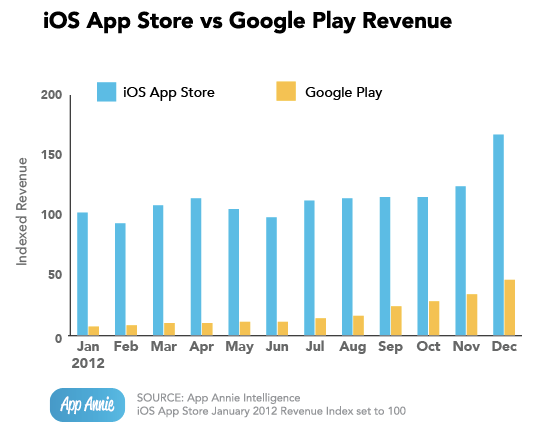 Apple has more than 800,000 apps on its store, and Google has more than 700,000.
Most of Google's growth came from customers buying games in Japan and South Korea, according to App Annie, which tracks the market for buying and selling games, productivity tools, and other apps.
Apple's growth was helped by the popularity of the iPhone 5 and the iPad mini toward the end of the year. "As highly-desired holiday gifts in many countries, new iPhones and iPads (including the recently launched iPad mini) typically lead to a jump in app downloads, and consequently, app revenue," the firm wrote in its report. Apple has said that its App Store generated about $333 million a month from June to December. Google does not release similar information.
Google is clearly also gaining importance among developers, who once wrote software only for Apple. "Both platforms are very healthy," App Annie's Oliver Lo said, according to Bloomberg. "More and more publishers are going cross-platform than a year ago."
Don't Miss: Chart of the Day: AAPL vs AMZN.