Could Apple User Justin Bieber Have Saved BlackBerry?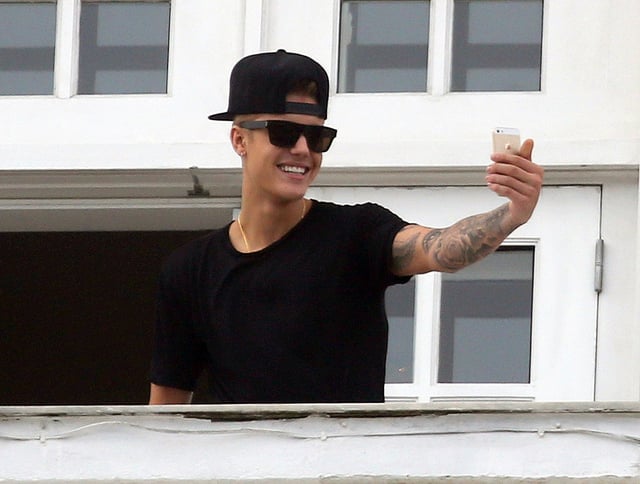 A recent feature chronicling the rise and fall of BlackBerry (NASDAQ:BBRY) revealed an interesting marketing misstep in the company's history. Bloomberg Businessweek spoke to various people that worked in different roles for the company, including former senior business development manager Vincent Washington. According to Washington, teen pop star Justin Bieber once offered to endorse the smartphone maker's device for a relatively low price.
"One thing we missed out on was that Justin Bieber wanted to rep BlackBerry," recalled Washington. "He said, 'Give me $200,000 and 20 devices, and I'm your brand ambassador,' basically." Like BlackBerry, Bieber is from Canada and presumably that angle would have been played up in any potential marketing campaign. Ironically, Bieber has willingly promoted Apple's (NASDAQ:AAPL) products even without a formal endorsement deal. As noted by Apple Insider, Bieber tweeted about using his iPhone 5 last September.
However, it is unclear how much a Bieber endorsement deal could have helped BlackBerry since its primary product would soon be undermined by Apple's more popular iPhone. Apple Insider noted that Apple's defunct social networking service, Ping, failed to catch on despite having several high-profile celebrity endorsements. Regardless of the potential marketing benefit, Washington recalled that the proposal was soon rejected. "And we pitched that to marketing: Here's a Canadian kid, he grew up here, all the teeny-boppers will love that," Washington told Bloomberg Businessweek. "They basically threw us out of the room. They said, 'This kid is a fad. He's not going to last.'"
Although the BlackBerry executive did not provide a specific timeframe for Bieber's endorsement proposal, Washington's tenure at BlackBerry covered the time period when Bieber's popularity was steadily increasing. As noted by Bloomberg Businessweek, Washington was BlackBerry's senior business development manager from 2001 to 2011.
Bieber became wildly popular soon after his first album was released in 2010 and he was recently ranked the ninth overall most-powerful celebrity by Forbes. Considering the pop star's marketability today, Bieber's request for $200,000 and 20 BlackBerrys was most likely a bargain when the proposal was originally made. Washington also claimed that he made a prescient observation at the fateful BlackBerry meeting over Bieber's offer. "I said at the meeting: 'This kid might outlive RIM [BlackBerry],'" recalled Washington. "Everyone laughed."
BlackBerry's share price has plunged over 45 percent since the company announced in September that it was slashing its workforce by about 40 percent after sustaining quarterly losses of nearly $1 billion. On the other hand, Apple is currently listed by Forbes as the world's most valuable brand. Here's how Apple and BlackBerry traded on Friday.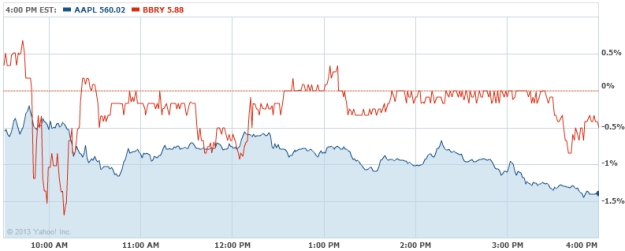 Follow Nathanael on Twitter (@ArnoldEtan_WSCS)
Don't Miss: Apple Barometer Hits Record High in November.