Could Apple's Purchase of Matcha.tv Foreshadow Apple TV?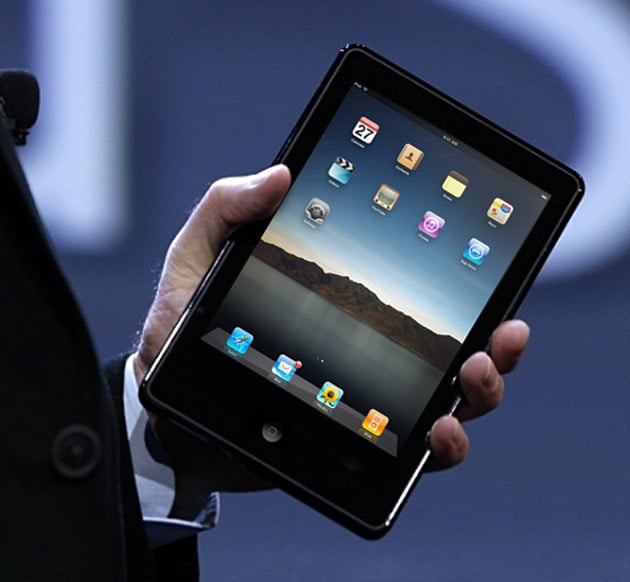 Apple (NASDAQ:AAPL) could be one step closer to joining the TV industry as the tech giant bought the comparatively tiny mobile app Matcha.tv.
Though Apple declined to explain its purchase, telling VentureBeat that, "Apple buys smaller technology companies from time to time, and we generally do not discuss our purpose or plans." However, it seems unlikely that the company can hide its true intention here, despite whatever comments are made. Speculation on when Apple is going to enter the television business have long been rampant, and this purchase only makes that reality one step closer.
Matcha.tv aggregated viewer preferences from various services, including Netflix (NASDAQ:NFLX), Hulu, and others, to recommended the most enjoyable possible show for any given individual to watch. The company could be leveraging Matcha.tv's ideas in order to better prepare their own service, which, as Steve Jobs planned to undue, is centered around linear channel surfing.
The sale price for Matcha.tv isn't exactly a certainty involved with the deal. While concensus seems to be in the ballpark of $1-1.5 million, one source is telling VentureBeat that that number is not correct. Given the app's growth trajectory before closing, it's certainly possible that Apple dipped into its endless cash reserve to shell over more than that.
The move comes at a time when Apple's board has expressed concern over the company's innovation, and when they have been losing market share in the mobile space. It is quite plausible that while Cook's job isn't exactly in danger, that nonetheless he's starting to feel a little warm in that seat — and is stepping up the strategic aggression. With the iWatch expected to release by the middle of next year, and the iPad Mini Retina launching this fall as well as a cheaper version of the iPhone, it's clear that the company is entering a period of proactive behavior. The repetition of iPad and iPhone variants is likely to placate the board and users alike for the time being, but it would not be at all surprising to see more dynamic products roll out next year, given the state of the company.
In the interim, Piper Jaffray commented in a note that this fall will mark a turnaround in earnings — with a healthy margin of between 20-25 percent on the iPad Mini Retina and bountiful demand for the iPhone variants helping to restore some pride to the balance sheet as new projects loom on the horizon. If Jaffray's investment note is correct, and replenished earnings are followed by exciting new products in the coming year, then the foreseeable future certainly looks bright for proud Apple.
Here's how Apple has traded in the past 5 market sessions: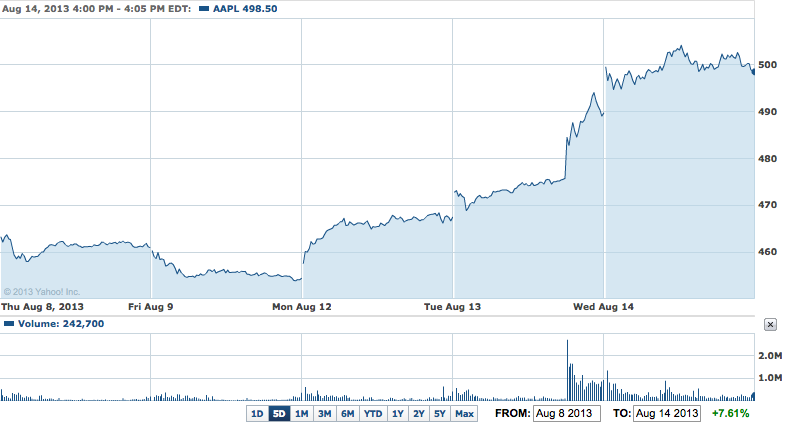 Investing Insights: Can Carl Icahn Push Apple Stock Higher?