Could This Be Apple's iWatch Display?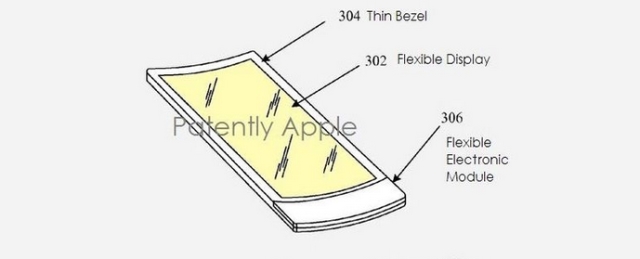 Apple (NASDAQ:AAPL) has developed a new type of OLED (organic light-emitting diode) display that integrates the use of thermal sensors according to a recently published patent uncovered by Patently Apple. The patent outlines a particular type of OLED technology that may help resolve some of the known problems with typical OLED displays.
OLED displays are considered advantageous for wearable tech products since they can be fabricated on a thin, flexible plastic substrate. However, OLED displays are also known to have shorter lifespans than other types of displays due to the use of organic materials. OLED displays may also lose color accuracy more quickly than other types of displays due to aging accelerated by heat. As noted by Patently Apple, blue and red OLEDs are especially prone to aging more quickly than other colors, which may result in overall color deterioration.
Earlier this year, Apple CEO Tim Cook commented on the problems with OLED displays at an investor conference. "If you ever buy anything online and really want to know what the color is, as many people do, you should really think twice before you depend on the color from an OLED display," said Cook via CNET. He also noted that the color saturation of OLED is "awful" compared to Apple's Retina displays.
However, Apple's patent proposes using integrated thermal sensors in OLED displays in order to keep track of the screen's operating temperatures. Controllers will then be able to compensate for color degradation due to aging and/or overheating based on the temperature history of different portions of the display.
As noted by Patently Apple, the controllers will determine individual levels of compensation for each OLED based on its age and temperature history. This will ensure that every diode is emitting approximately the same amount of light. Not only will this adjustment prolong the overall life of the OLED display, it will also improve the device's battery life.
Although it is not known when Apple will implement the OLED display with integrated thermal sensor technology into one of its products, the company has long been rumored to be working on a so-called "iWatch" wearable tech product.  Interestingly, Korea's ETNews recently reported a rumor that Apple is planning on using a flexible OLED display for its upcoming iWatch.
Follow Nathanael on Twitter (@ArnoldEtan_WSCS)
Don't Miss: Apple Users Are Adopting iOS 7 Faster Than Previous Updates.