Could This Be the First Million Dollar Apple Computer?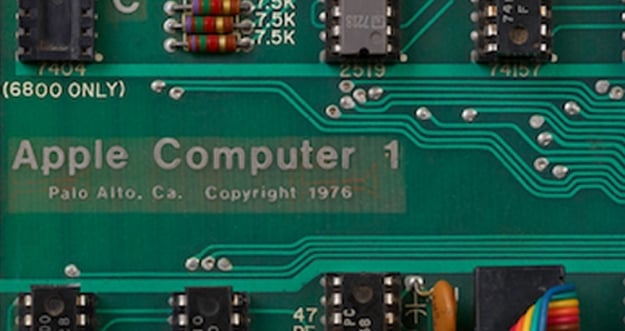 Nothing speaks to the iconic status of Apple (NASDAQ:AAPL) better than the staggering prices that its technological artifacts can fetch at auction. Christie's is the latest auction house to offer up a rare Apple 1 computer for sale. According to the Associated Press, Christie's will start the bidding at $300,000, but the computer is expected to sell for at least $500,000.
However, it could sell for even more. An Apple 1 computer put on sale in Germany last month by Auction Team Breker was expected to fetch somewhere in the range of $261,000 to $392,000. It ended up selling for the unprecedented amount of $671,400.
That sale shattered the previous record of $640,000 that was set at the same auction house last November. The value of these computers seems to only go higher with each sale, since last year British auction house Sotheby's sold one for what now appears to be a bargain price of $374,500.
Appropriately enough for the sale of a computer artifact, Christie's will only be accepting online bids beginning June 24 until July 9. The Apple 1 sale is part of its "First Bytes: Iconic Technology from the Twentieth Century" auction which also includes an Apple Lisa computer and a prototype Macintosh portable computer.
The Apple 1 debuted in 1976 and was considered a ground-breaking step forward since it included a fully assembled circuit board. It originally retailed for $666.66, or about $2,700 in current dollars. Approximately 200 of these rare units were ever produced and only 30 to 50 are estimated to be in existence today.
Besides the obvious historical value of such a rare technological artifact, there are charming personal touches from two of Apple's original co-founders. The computer was assembled by Steve Wozniak in Steve Jobs's family garage and the computer comes with "The Woz's" signature.
Here's how Apple closed out on Friday.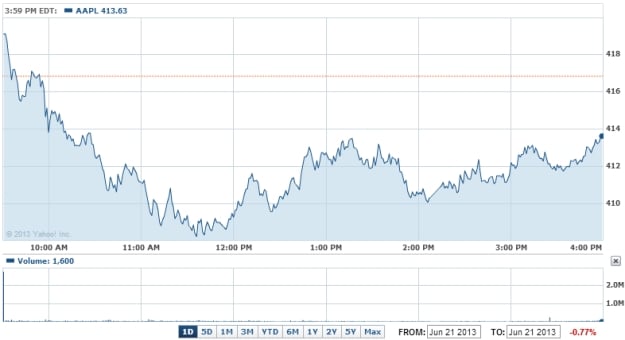 Follow Nathanael on Twitter (@ArnoldEtan_WSCS)
Don't Miss: What Is This Company Suing Apple Over?