Could This New Apple Tech Make Devices Even Smaller?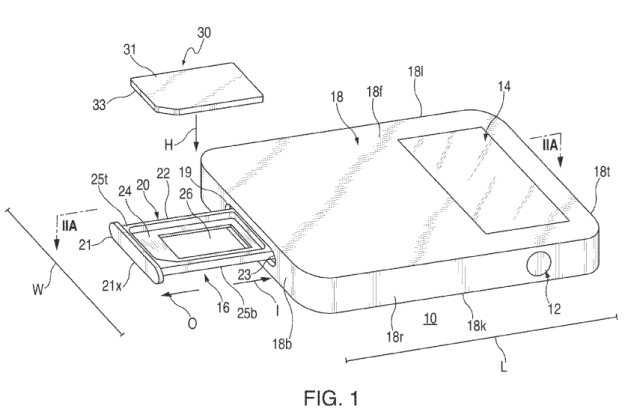 A recently published patent application reveals that Apple (NASDAQ:AAPL) has developed a new SIM card tray mechanism that could save "valuable real estate" and reduce the overall size of future devices, reports Patently Apple. In a patent titled "Systems and Methods for Ejecting Removable Modules from Electronic Devices," Apple outlines its elegant solution to the standard mechanical SIM card assembly.
As noted in the patent background information, most SIM card "ejector mechanisms" waste space and can allow debris to enter into the device since users must typically use an eject tool to trigger the mechanism. However, instead of relying on a mechanical "ejectable component assembly," Apple's "removable module" patent would utilize a series of magnets to hold the SIM card in place.
Apple's new method for ejecting removable modules could also have applications beyond the iPhone. In the patent disclosure section, Apple notes that this technology could be applied to all types of electronic devices, including "laptop computers, desktop computers, tablets, servers, printers, or combinations thereof."
Apple also suggests that this technology could be incorporated into "miniature electronic devices." These wearable tech products could be integrated into other objects such as "watches, rings, necklaces, belts, accessories for belts, headsets, accessories for shoes, virtual reality devices, other wearable electronics, accessories for sporting equipment, accessories for fitness equipment, key chains, or any combination thereof."
Although rumors of an Apple iWatch have been around since last year, the reference to "accessories for shoes" is particularly intriguing since Apple recently hired Ben Shaffer, a former Nike (NYSE:NKE) shoe designer. Although industry watchers can only guess at Apple's ultimate plans for this technology, the effort that went into designing this tiny component is yet another example of what renowned product designer Jony Ive recently called Apple's "care and attention to things people don't see immediately."
Here's how Apple closed on Friday.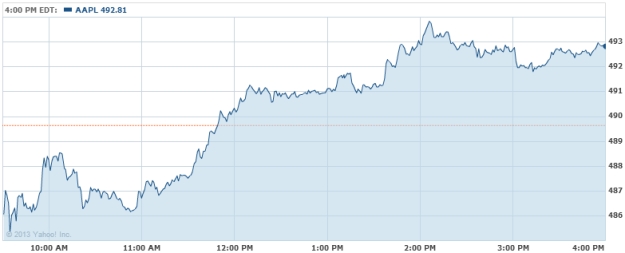 Follow Nathanael on Twitter (@ArnoldEtan_WSCS)
Don't Miss: Here's How Jobs Inspired This Billionaire Investor to Dump Apple.