Court to Samsung: No Delay for Apple's Damages Trial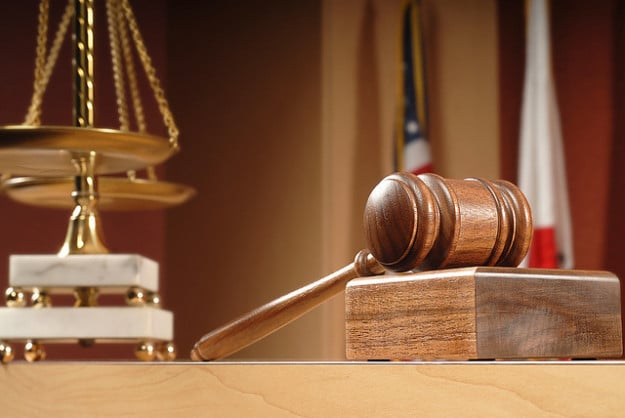 U.S. District Judge Lucy Koh has confirmed that the limited damages trial regarding Samsung's (SSNLF.PK) infringement of Apple's (NASDAQ:AAPL) patents will proceed as scheduled. She said this after denying two motions submitted by the Korea-based company that would have delayed the trial, reports Foss Patents. The trial is scheduled to begin on November 12, 2013.
One of Samsung's denied motions was seeking to postpone the trial over allegations that Apple had violated court orders by claiming "vastly greater damages" for the retrial. Although Samsung may have secured a limitation on the amount of damages that Apple can claim in the new trial, the company was denied a trial postponement.
Samsung's other denied motion concerned Apple's so-called "rubber-banding" patent, which covers a particular scrolling method on touchscreens. Samsung was requesting a separate liability trial over claims relating to this patent because some the patent's original claims were being reexamined by the United States Patent and Trademark Office.
However, Apple narrowed the scope of its original patent claims, and the USPTO recently reversed its preliminary rejection of this patent, reports Foss Patents. Judge Koh also denied Samsung's motion for a new trial on this issue. Apple has characterized Samsung's motions as attempts to "delay and derail the damages retrial" scheduled for November.
The limited damages trial is a continuation of the 2012 Apple v. Samsung case in the Northern District of California. In that trial, a jury found that 26 Samsung products infringed on Apple's patents and awarded the Cupertino-based company $1.05 billion in damages.
However, Judge Lucy Koh slashed the original damages award by about $400 million after discovering that the jury based its award amount on an "impermissible legal theory." As a result, Judge Koh ordered a new trial in order to determine damages over 13 of Samsung's infringing products.
Here's how Apple has traded over the past week.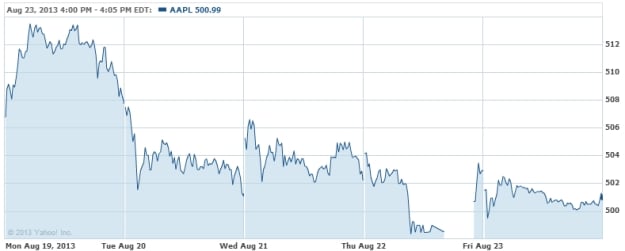 Follow Nathanael on Twitter (@ArnoldEtan_WSCS)
Don't Miss: Judge Says No to Friends of the Court in Apple-Google Hearing.