Cramer: Apple Is the J.C. Penney of Tech
In a discussion broadcast on CNBC Tuesday morning, Jim Cramer almost exclusively limited himself to poking fun at the overly pessimistic treatment Apple (NASDAQ:AAPL) has received recently.
Cramer cast what even seemed like good news for Apple — such as  the apology by Tim Cook to China and the turnaround by the government on its stance toward Apple — under the bus. He said the China incident was a case of Apple trying not to be Google (NASDAQ:GOOG). "Apple [is] really saying, 'we will play by the rules,'" unlike Google, which abandoned China over consumer privacy concerns
Dramatizing the negative outlook he was poking fun at, Cramer gave the actual bad news an even harsher treatment. He said that the downgrade Goldman Sachs gave Apple — from Conviction Buy to just Buy — was a sign that market opinion has begun to turn increasingly negative.
In regards to Apple's future, he said he was waiting for a copy of Goldman's downgrade "that says they are going to miss 2016, because 2016 is going to be a very bad year for Apple." Dismissing a number of analyst estimates released recently calling for weak future quarters, he said, "I think tomorrow we get a downgrade and they'll say that 2014 is going to be bad."
Furthermore, Cramer channeled the negativity about upcoming releases from Apple, saying, "whatever product that is coming out in September is a clear loser. We haven't seen it yet, but it is a loser." Hints that an iPhone 5S, a new iPad Mini, and a cheaper iPhone model could come out in the next several months make it seem likely that one of those devices could fit into Cramer's suggested release timeline, but his words don't bode well for whatever that product will be.
Summarizing his theatrical opinion on Apple, he said, "let's just call it as it is, there has not been a single piece of good news about Apple for 300 points, and today is just another day when the news is just horrendous." He even asserted that the company was becoming "the J.C. Penney (NYSE:JCP) of tech."
On a softer note, he acknowledged that Apple still had a strong installed base, that a "wow" product could still do good things for the company, and that a 4 percent dividend might be able to put an end to the stock downgrades. But, considering it may be months before Apple releases a product that is more than a simple refresh and the company's dividends recently increased — thus making it less likely they'll be changed again so quickly — Cramer's positive comments may be a moot point.
Here's how Apple, Google and J.C. Penney have all traded in 2013: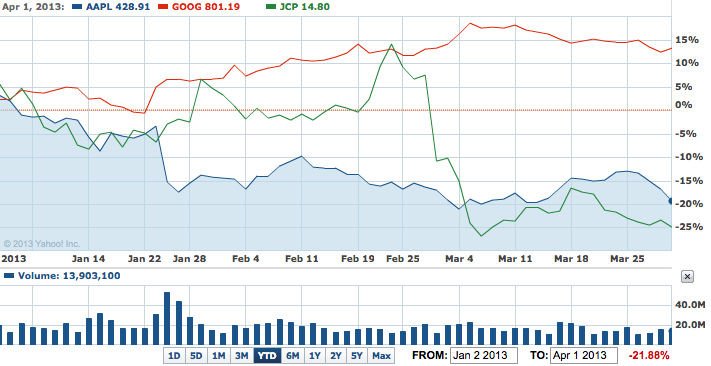 Don't Miss: Patent Trial: Has Apple Lost an Edge on Samsung?