David Einhorn: Apple Is Still a Winner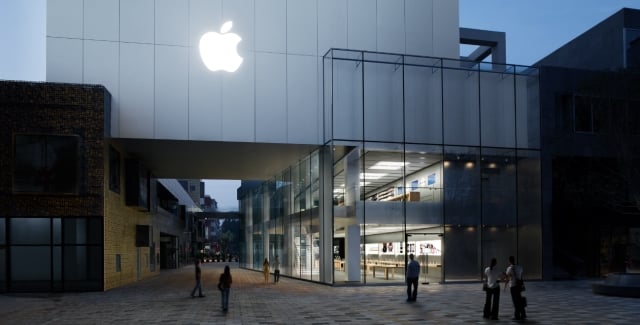 Apple (NASDAQ:AAPL) shares have yet to recapture their all time highs made more than one year ago, but at least one hedge fund titan remains bullish on the tech giant. David Einhorn, the president and founder of Greenlight Capital, recently issued his latest quarterly letter to investors. The Greenlight Capital funds posted a 4.3 percent gain in the third quarter, while "virtually every long position in the portfolio was profitable." Einhorn notes that Apple logged "sizable gains."
In the three months ended September, Apple shares made an impressive climb from $397 to $477. Einhorn explains that shares advanced as "earnings estimates stopped falling and the market turned its attention to Apple's new products." He adds, "The newly introduced iPhone 5S gives customers a compelling reason to upgrade. It looks like it will be a hit, and we believe that Apple will find novel ways to use Touch ID and iBeacon to monetize its user base and ecosystem via new service offerings and apps."
Investors will have a better idea of how successful the new iPhones are when Apple reports earnings later this month, but they appear to be off to a strong start. Apple sold a record-breaking nine million new iPhone units just three days after launch in September, making it the best iPhone launch to date. Furthermore, demand for the iPhone 5S exceeded the company's initial supply.
Einhorn also touts the success of Apple's software and services business. "Apple's current non-hardware e-commerce business is $16 billion a year and growing. Not only is it growing faster than Amazon (NASDAQ:AMZN), Apple makes more money in non-hardware e-commerce alone than Amazon makes in its entire business.
"That gap will likely widen in Apple's favor as Apple rolls out new offerings and services. We believe that near-term share performance will track the success of the new phones while the long-term share price will reflect the market's eventual understanding of Apple's strong ability to earn high-margin and recurring revenue streams."
For the company's fiscal 2013 third quarter, Apple posted a net profit of $6.9 billion ($7.47 per diluted share), compared to $8.8 billion ($9.32 per diluted share) a year earlier. Revenue edged slightly higher from $35.0 billion to $35.3 billion over the same period. While growth and innovation continue to remain a concern for some investors, the results topped Wall Street's earnings estimate of $7.32 per share on revenue of $35 billion.
As the chart below shows, it has been lackluster year for Apple. Shares are down about 6 percent year-to-date, while other popular names, such as Amazon, Microsoft (NASDAQ:MSFT), and Hewlett-Packard (NYSE:HPQ), have easily posted double-digit gains. However, Apple shares are up nearly 30 percent since hitting a 52-week low of $385 in April. Shares of Amazon and Microsoft are up 23 percent and 30 percent year-to-date, respectively.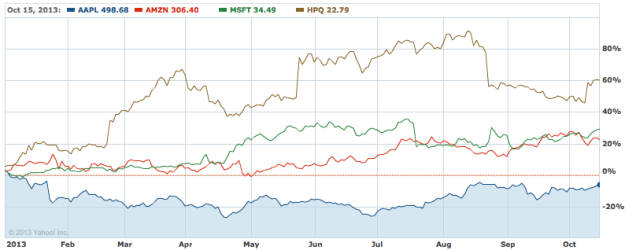 After receiving heat from David Einhorn earlier in the year, Apple announced the biggest capital return program in market history. In April, Apple's Board of Directors approved a plan to return $100 billion by the end of 2015, representing a $55 billion increase from the original plan announced last year. It raised its buyback program from $10 billion to $60 billion and hiked its quarterly dividend 15 percent from $2.65 to $3.05 per share. The move marked a bottom for shares and placed more cash in the pockets of shareholders.
Apple is currently the largest dividend payer in the market, and holds the achievement of launching the biggest single share-buyback program in history, surpassing previous record-holders Microsoft and Procter & Gamble (NYSE:PG).
Don't Miss: Does the Government Shutdown Threaten the Real Estate Market?
Follow Eric on Twitter @Mr_Eric_WSCS