David Einhorn Q4 Letter: I'm Still Long These 5 Big Investments
David Einhorn, the president and founder of Greenlight Capital, recently issued his latest quarterly letter to investors. The hedge fund superstar had a disappointing fourth quarter and managed to eloquently critique his own performance like none other. However, he still has significant long positions that are attracting attention.
The Greenlight Capital funds posted a 4.9 percent decline in the fourth quarter, net of fees and expenses. The final quarter of 2012 reduced Einhorn's year from "good to pedestrian," but he still managed a net return of 7.9 percent. Since inception in 1996, Greenlight Capital has returned a net 19.4 percent on an annualized basis. Last year was not a "catastrophe" for the funds, but it fell "short of our goals," as the S&P 500 logged a double digit gain and clearly separated the winners from the losers.
Einhorn sums up the fourth quarter by explaining, "Our coffee was too hot, our apple was bruised, and our iron supplements didn't go down smoothly. We got to marvel at a jury's decision to endow a university with a billion dollar verdict, and tried not to get too moody when several of our shorts melted up." Greenlight's average short increased about 10 percent, as Green Mountain Coffee Roasters (NASDAQ:GMCR) led the way with a 74 percent advance that "wiped out" Einhorn's 2012 profit in the position. Some people assumed iron supplements was a hint at a Herbalife (NYSE:HLF) short position, but Einhorn has not confirmed this and even notes a new bearish thesis on iron ore later in the letter.
At the end of the fourth quarter, Greenlight Capital funds had an average exposure of 114 percent long and 70 percent short. The positive full year performance was powered by long positions.
Here's a look at the five biggest longs…
Apple (NASDAQ:AAPL):
Despite a pullback, the world's largest publicly traded company is still one of Einhorn's biggest positions. He notes in the letter that shares fell from $667.10 to $532.17 to give back all of its third quarter gains and then some. However, Einhorn "used the lower prices as an opportunity to repurchase" the shares he sold in the third quarter. Apple was also one of the biggest contributors for the positive full-year performance, along with mobile provider Sprint (NYSE:S).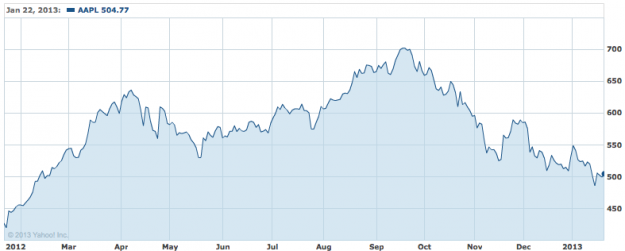 This healthcare pick makes the cut…
Cigna (NYSE:CI):
Einhorn made several changes in healthcare-related names, but Cigna is still a major position. In the quarterly letter, he reveals that Greenlight Capital closed long positions in Humana (NYSE:HUM) and Wellpoint (NYSE:WLP) at a small loss and reallocated to other Managed Care Organizations that are more exciting.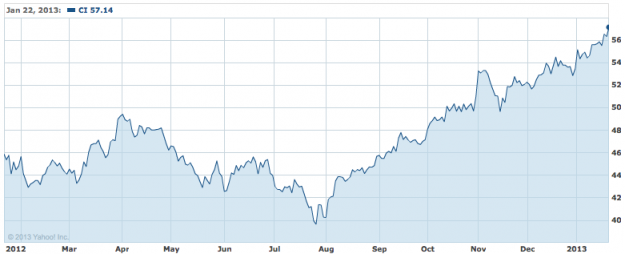 This out-performer still has upside potential…
General Motors (NYSE:GM):
Shares of the bailed-out automaker led Greenlight's long portfolio by climbing from $22.75 to $28.83 in the fourth quarter. GM repurchased more than 11 percent of its shares from the government and looks poised to return more value to shareholders.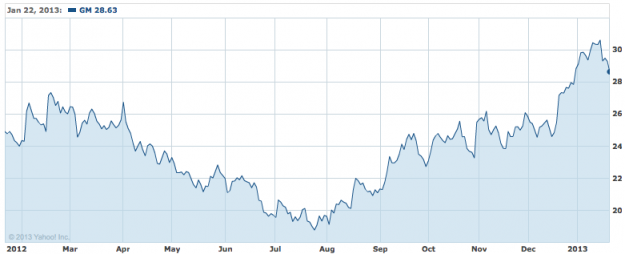 Einhorn explains, "GM's reduced share count is quite accretive to its earnings, and we hope that the recent action is a first step by management toward shareholder-friendly capital allocation. Even after the repurchase, GM holds substantial excess capital and has a good opportunity to further reward shareholders through additional share repurchases either from the government or in the open market."
This precious metal is still in the portfolio…
Gold:
Greenlight's macro book posted a small profit for the fourth quarter, but "took some lumps as gold declined." The latest 13-F filing shows that Einhorn does not hold any gold through popular ETFs such as the SPDR Gold Trust (NYSEARCA:GLD), but he likely holds physical gold bullion. The GLD declined nearly 6 percent in the fourth quarter.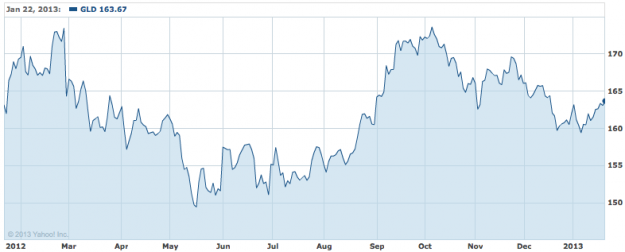 A buyout may be in order…
Vodafone Group (NASDAQ:VOD):
The telecommunication services company is one of Greenlight's largest positions and receives a good amount of attention in the quarterly letter. Einhorn believes the market is placing zero value on Vodafone's 45 percent stake in Verizon Wireless (NYSE:VZ), but the stake "is clearly quite valuable." He believes Verizon may even buy Vodafone.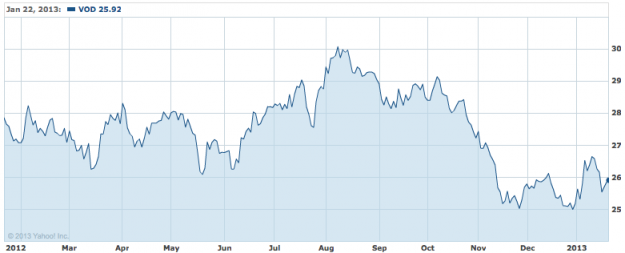 Einhorn writes, "Given the huge valuation disparity between what the market thinks Verizon Wireless is worth to Verizon (at least a couple hundred billion dollars) and what it ascribes to VOD (about zero), combined with Verizon's increasing dependence on Verizon Wireless, it wouldn't surprise us if Verizon decided to buy all of VOD to gain full ownership of Verizon Wireless. It could decide to become a global telecom leader or it could spin out parts of VOD that it's not interested in owning. Maybe there is an investment banker with time on their hands reading this letter."
Investor Insight: Gold: Is The Bull Market Really Over?