Dell Delays Meeting, Ford Earnings Drive Ahead of Expectations: Market Recap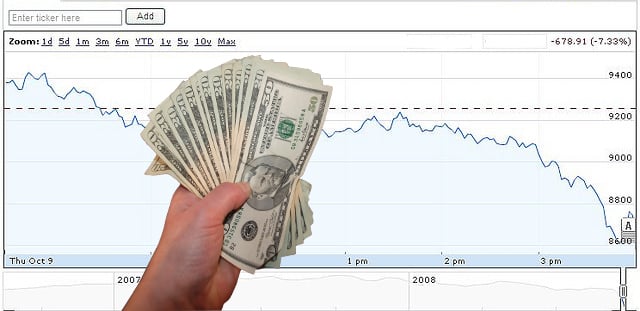 U.S. stocks fell on Wednesday, as Apple's (NASDAQ:AAPL) victorious earnings results weren't enough to offset losses in utility and commodity shares. The market is continuing to weigh earnings reports, with 48 members of the S&P 500 reporting today, as economists speculate about when the U.S. economy will be ready for the Federal Reserve to end stimulus.

Gold: -1.11% to $1,319.90 per ounce  Oil: +0.08% to $107.00  U.S. 10-Year: +2.86 to 2.588%
European Recovery: Manufacturing Data Good; Problems Still Loom for EU: The road toward global growth never seems to have all of world's countries on it at the same time, as one country's economic enlightenment is usually offset by the struggles of another. The trend is no different of late, as this week's PMI data shows that output for European manufacturers made significant headway, reaching its highest point in 18 months… (Read more.)
Exports Up, Imports Down as American Petroleum Industry Thrives: This week's petroleum supply report from the Energy Information Administration remains largely unchanged, when compared to the bigger picture of the energy scene right now. However, imports of crude oil did uptick a bit more than previously to over 8 million barrels per day, or 327,000 more than the previous week… (Read more.)
Can U.S. Manufacturing Make a Second-Half Comeback?: Manufacturing conditions in the United States improved in July, according to the Markit Flash U.S. Manufacturing PMI report. Markit's index of manufacturing conditions increased from 51.9 in June to a preliminary reading of 53.2 in July, signaling expansion of the sector at a faster rate… (Read more.)
Here's your cheat sheet to today's top stocks stories: 
AT&T (NYSE:T) reported second quarter earnings Tuesday, and sales of smartphones using Google's (NASDAQ:GOOG) Android operating system beat sales of Apple's (NASDAQ:AAPL) iPhone at the second-largest wireless carrier in the United States. According to a conference call with AT&T's head of wireless, Ralph de la Vega, Android phones made up most of AT&T's 6.8 million smartphones sold during the quarter… (Read more.)
Facebook (NASDAQ:FB) reported earnings today. The company posted adjusted earnings per share of 19 cents, beating analyst estimates of 14 cents and growing 58.33 percent from 12 cents in the year-earlier quarter. The social media behemoth also beat analyst expectations in revenue, posting a 53.13 percent growth of $1.81 billion. Analysts had expected that figure to be around $1.62 billion.
PepsiCo Inc. (NYSE:PEP) reported earnings Wednesday morning that beat analyst expectations. The company announced earnings per share of $1.31, up from analyst expectations of $1.19. Revenue rose 2 percent to $16.81 billion, coming in slightly ahead of analyst forecasts that put the figure at $16.79 billion… (Read more.)
Ford's (NYSE:F) earnings rose 15.6 percent, while revenue jumped 10 percent from the year-ago period. Results were made all the more impressive by the fact that the automaker generated strong growth in both its top and bottom line despite worsening conditions in Europe, high construction costs in Asia, and devalued currency in South America… (Read more.)
Dell's (NASDAQ:DELL) shareholders once again converged at the company's headquarters in the outskirts of Austin to determine the personal computer maker's fate — and once again, the vote on the $24.4 billion go-private proposal submitted by founder Michael Dell and financial backer Silver Lake was adjourned until August 2… (Read more.)
Boeing (NYSE:BA) stock climbed on Wednesday after reporting better-than-expected second quarter results. Revenue climbed 9.05 percent on the year to $21.82 billion, beating the average analyst estimate of $20.78 billion. Adjusted earnings increased 31.5 percent on the year to $1.67 per share, beating the average analyst estimate of $1.58 per share… (Read more.)
Follow Jacqueline on Twitter @Jacqui_WSCS
Don't Miss: Another Dime From Michael Dell May Not Be Enough.