Dell Nixes Icahn Proposition, Delta Teams Up With Virgin: Market Recap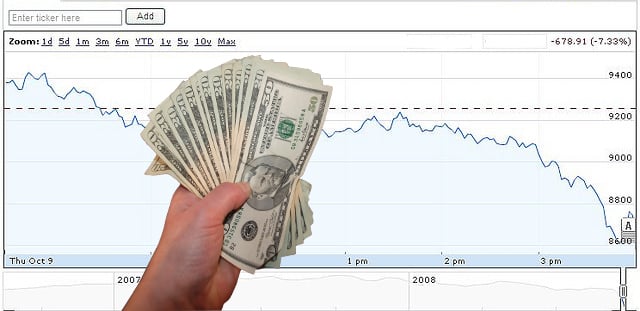 U.S. stocks fell today as investors worried about the Federal Reserve ending its stimulus program and fear that China's economy will suffer as the People's Bank of China has refused to inject liquidity into its banking system and Chinese equities entered a bear market. The S&P 500 reached a nine-week low, with all three major averages down 1 percent by close.

Gold: -0.70% to $1,282.70 an ounce  Oil: +1.36% to $94.96 per barrel  U.S. 10-Year: +1.35 to 2.548%
Economists: Auto Sales Fueling Consumer Spending: Without the increase in home buying and new car sales, economists might not have much good news for investors this month. As it is, economists are betting that consumer spending jumped more in May than it has in months, with numbers buoyed by auto demand, which was in turn buoyed by an uptick in home construction… (Read more.)
Taper Talk: Are Markets Due For a Correction?: The media response to the post-FOMC market behavior has been dramatic. We've even been treated to some intra-Fed fisticuffs, with St. Louis Fed President James Bullard openly criticizing his colleagues for apparently giving presumably lame-duck Chairman Bernanke license to discuss QE taper timelines in his Wednesday press conference… (Read more.)
Dallas Fed's Manufacturing Numbers Blow Past Estimates: The Dallas Federal Reserve's Texas Manufacturing Survey is the first report in what will be a closely watched blitz of economic data and Federal Reserve announcements scheduled to be released this week. Ahead of the Monday morning release, UBS chief economist Maury Harris noted that there was evidence that the reading of the business climate in Texas could marginally improve… (Read more.)
Here's your cheat sheet to today's stock stories: 
Apple (NASDAQ:AAPL) shares may be seeing another moment of negativity, as Jefferies just dropped its price target to $405 and has a "hold" rating on the stock. However, things could turn around in the fall with the release of several highly anticipated products. It's well known to investors that Apple has not had an amazing past nine months… (Read more.)
Tenet Healthcare Corp. (NYSE:THC) is buying hospital operator Vanguard Health Systems Inc. (NYSE:VHS) in a move it believes will create valuable synergies in the changing healthcare market, as Obamacare pushes to extend health insurance to 27 million uninsured Americans. The third largest publicly traded U.S. hospital chain is looking to expand as it prepares for healthcare overhaul in the U.S. under President Obama's Affordable Care Act… (Read more.)
Dell's (NASDAQ:DELL) board of directors special committee charged with overseeing the company's go-private transition critiqued the recapitalization proposals made by Carl Icahn of Icahn Enterprises (NASDAQ:IEP) and partner Southeastern Asset Management as "lacking credibility." In a presentation submitted Monday morning to the U.S. Securities and Exchange Commission, the committee stated that Icahn's recapitalization proposal was "inconsistent"… (Read more.)
Delta Airlines (NYSE:DAL) has completed its purchase of a 49 percent stake in Virgin Atlantic, and the airlines will start sharing seats on flights by the beginning of next month. The deal is still waiting on approval from the U.S. Transportation Department, but has received clearance from the U.S. Department of Justice and the European Commission. Delta purchased its stake in the British Virgin Atlantic from Singapore Airlines back in December… (Read more.)
Rio Tinto (NYSE:RIO) has nixed plans to sell its $1.3 billion diamond business after failing to find a buyer willing to pay full price. The company has been making concerted efforts to tighten up operations during a global industry downturn. Rio, the world's number 3 miner, has listed numerous assets for sale as it tries to trim off $19 billion in debt… (Read more.)
Coca-Cola (NYSE:KO) was recently named the "most effective brand in the world" by a panel of industry experts. The Effie organization deemed Coke as the best advertised product in the world, beating out reigning champion McDonald's (NYSE:MCD) for the top prize. According to USA Today, the case studies are judged in areas such as brand awareness, perception, store traffic, social media engagement, and sales… (Read more.)
Don't Miss: As Dell Again Rejects Icahn Bid, This Third Option Looms.
Follow Jacqueline on Twitter @Jacqui_WSCS