Did Amazon Outsmart Apple on This Deal?

Did Amazon (NASDAQ:AMZN) outmaneuver Apple (NASDAQ:AAPL) when it bought the book-recommendation website Goodreads? According to the Wall Street Journal, Apple had been in partnership discussions with the reading social network website last year and was caught off-guard when the company was acquired by Amazon last month.
Apple was apparently interested in the possibility of integrating Goodreads' book rating and recommendation features into Apple's iBookstore. Goodreads was interested in having its user generated reviews and ratings appear in iTunes, similar to the way that Rotten Tomatoes movie ratings currently appear. However, the discussions "didn't progress much" according to the Wall Street Journal's sources.
Apple did not reach out to Goodreads again until March, but by then the company had already entered into acquisition discussions with Amazon. In March, Amazon announced that it would be acquiring the social cataloging website for an undisclosed sum in the second quarter of 2013. However, according to anonymous sources via the Wall Street Journal, Amazon may eventually pay up to $200 million for the San Francisco-based company.
Amazon has been slowly venturing into the social media arena reports the Wall Street Journal. It already owns a subsidiary website called Askville that allows readers to share book recommendations in a question and answer format.
Amazon also encourages users to piggyback on social media services like Facebook (NASDAQ:FB) and Twitter. However, with its acquisition of Goodreads, Amazon now has a fully-fledged social network with 16 million users reports the Wall Street Journal. Analysts expect that Goodreads' services will be integrated into Amazon's Kindle.
Besides frustrating Apple's Goodreads integration plans, Amazon's purchase can also be viewed as part of a larger overall battle for consumers' digital business.
Here's how Apple and Amazon traded throughout the week.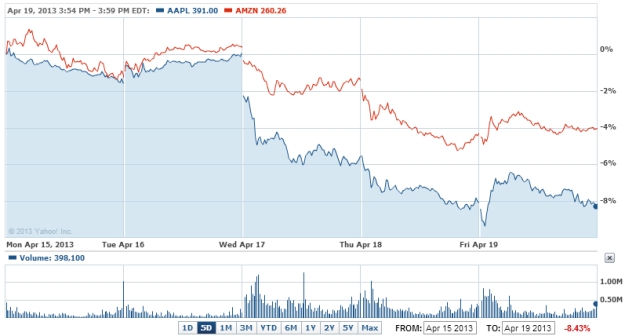 Don't Miss: Will Apple Do What Google Wouldn't in China?