Did Apple Accidentally Reveal Future iOS 7 Changes?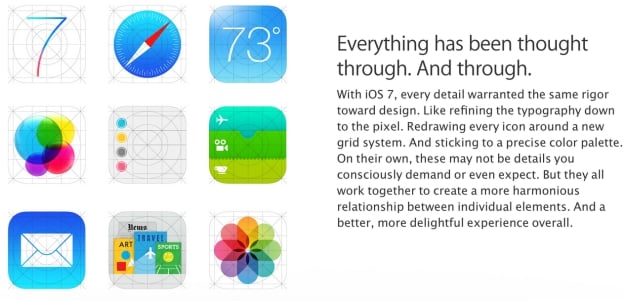 Is Apple (NASDAQ:AAPL) already making changes to iOS 7 in response to the critics? Even before it was unveiled at the Worldwide Developers Conference, Apple's new iOS 7 was a target for criticism due to the company's abandonment of iOS's longstanding skeuomorphic design tradition.
However, Apple may already be responding to the developers' suggested changes. As reported by 9to5Mac, Apple briefly posted alternative iOS 7 icons on its official site. These new icons seemed to feature changes that were in direct response to some of the criticism given by developers at the WWDC.
After the mobile operating system was unveiled at the WWDC last Monday, developers began offering more specific critiques of the radical new design. Ironically, for an operating system that was initially rumored to be "black, white, and flat all over," many developers found themselves disliking the "heavy use of bright, neon colors," reports the Los Angeles Times.
Other developers were critical of the Weather app icon that displays a cartoonish-looking cloud and sun. Many developers were hoping that the icon would display the current temperature, similar to the way that the Clock app shows the current time on its icon.
The alternative icons show that the cartoonish Weather app icon was replaced by an icon that says 73 degrees in a simple Helvetica-style font. Other icons were altered to a more subtle color scheme. Passbook's icon lost its bright orange color which was replaced by a muted green. Similarly, the Reminders icon got a more muted gray color treatment.
However, the alternative icons were soon taken down after being on the site for less than a day. Was this simply a mistake or is Apple still reworking the final look of iOS 7? The company can ill afford to alienate its user base since its intuitive mobile operating system is one of the major reasons that consumers are attracted to Apple's devices. Here's how Apple stock closed out the week.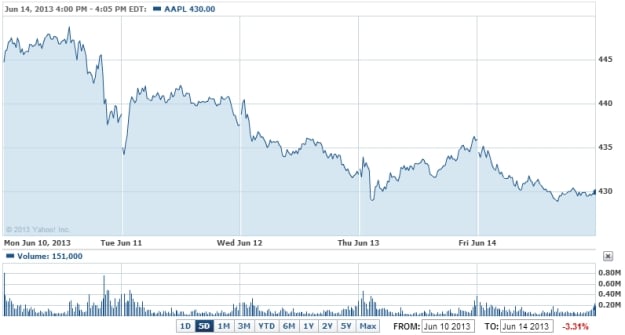 Follow Nathanael on Twitter (@ArnoldEtan_WSCS)
Don't Miss: Does GM Have an Investment Grade Credit Rating in Sight?