Did Apple Commit a Design Faux Pas in iOS 7?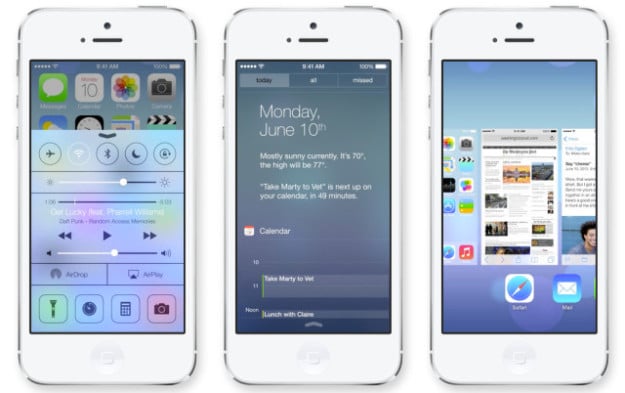 Independent iOS app designer and developer Jared Sinclair took Apple (NASDAQ:AAPL) to task over what he perceives as a major design flaw in the Cupertino-based company's latest mobile operating system. In a recent posting on his blog, Sinclair outlines the reasons why he believes Apple made a design mistake by failing to include borders around the buttons in iOS 7.
Sinclair noted that, "The essential characteristic of iOS is touch." In other words, the ease with which a user is able to operate a mobile operating system through touch is of primary importance. No matter how beautifully a mobile operating system is designed, it will fail if it is not "touchable."
In this sense, Apple's lack of borders around the buttons in iOS 7 is a major design flaw. Without an obvious visual cue to indicate a touchable area, users find it hard to distinguish between a button and a text label. Sinclair noted that this problem is especially apparent in iOS 7's "Contacts" app where the editable text in the name field is "black, borderless, and floating some inscrutable distance from one another and from the other elements above and below them."
Despite his critique of iOS 7's borderless buttons, it should be noted that Sinclair is not advocating a return to the skeuomorphic design elements that were found in iOS 6. He is also not requesting that all the buttons in iOS 7 be delineated with literal border lines. He noted that, "Borders around buttons can be real or implied."
Intelligent use of space can create effective implied borders around buttons that can be perceived by users as easily as a "real" border. Sinclair noted that Apple's iOS designers made good use of implied borders around the toolbar icon buttons at the bottom of the Safari screen. Unfortunately, it appears that the usability of most buttons in iOS 7 was sacrificed on the altar of Jony Ive's minimalist design philosophy.
Sinclair is not the first iOS app developer to question Apple's use of borderless buttons in iOS 7. Soon after Apple released the beta version of iOS 7, the app makers at Entropy Labs noted the problems that might come from iOS 7's "'borderless button' mantra." As noted on the Entropy Labs blog, "it's completely unclear to the user where text becomes a button and (more crucially) where a button becomes a drop-down." Although Apple hasn't responded to the borderless button criticism, it should be noted that the iPhone maker has previously changed other design elements of iOS 7 in response to feedback it received. After users complained about the hard-to-see font in an early version of iOS 7, Apple sent out an iOS 7 update to developers that featured a new, thicker primary font.
Follow Nathanael on Twitter (@ArnoldEtan_WSCS)
Don't Miss: Americans Love Apple's iPhone 5C, Germans Prefer the iPhone 5S.