Did Apple Commit Stock Market Suicide?
Analysts have received much of the blame for Apple's (NASDAQ:AAPL) spectacular fall from its heights. The stock advisors raised expectations to unreasonable values, some argue, leading investors to believe in a kind of success that was hard to keep up quarter after quarter. Apple signaled as much when it announced a change in its own earnings prediction strategy, saying it would now start offering a range that helps analysts make their estimates more realistic.
However, according to Ovum chief telecom analyst Jan Dawson, most of the responsibility actually lay with the iPhone maker. Apple has "spent a long time training investors to expect them to beat their own guidance [and] to expect them to grow revenue very significantly and to maintain margins," Dawson told Benzinga.
However, the problem was that those three things were not sustainable lover a long term because Apple could not continue beating its own guidance. According to the analyst, the biggest issue was exactly the fact that Apple kept offering one conservative forecast after another. "That came back to bite them this time around, and that's why they said now they're [going to] provide realistic guidance instead of conservative guidance," he said.
Something had to give, and it did as soon as Apple started fighting for market share by launching low-margin products. "They can't keep growing revenues and maintain margins at this rate," Dawson said. "If you want to keep selling more phones, you've got to sell them cheaper, you've got to have things like the iPad mini that's [going to] have a lower margin. It was inevitable that this was going to happen."
But Dawson does not think the Apple is damned. "There's still massive growth there, there's still massive profitability," he said.
Here's how Apple finished the trading week, up 3.16% on the last 5 trading sessions: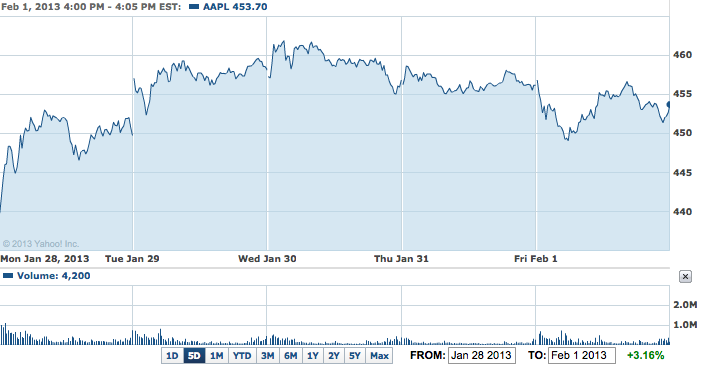 Don't Miss: Is Apple TV Getting This Major Content Deal?