Did Apple Give This Breaking Bad Fan a Rotten Deal?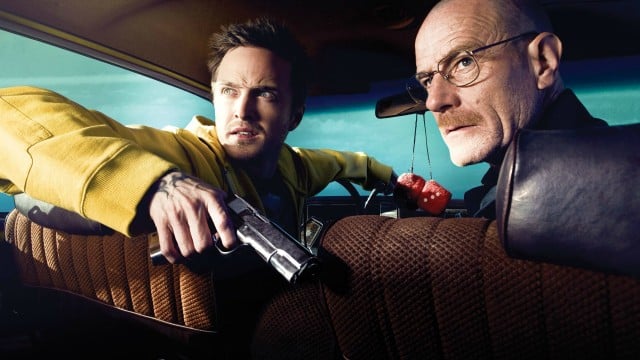 Hell hath no fury like a Breaking Bad fan scorned. Apple (NASDAQ:AAPL) has been hit with a class action complaint from an unhappy iTunes customer who purchased a "Season Pass" for the show's fifth season, reports GigaOM.
In the complaint, plaintiff Noam Lazebnik, M.D. accuses Apple of using "deceptive and unfair sales practices with regard to Season 5 of the popular television program 'Breaking Bad.'" Lazebnik notes that the last 16 episodes of Breaking Bad have consistently been referred to as the fifth season, or "Final Season" of the show.
However, after purchasing a "Season Pass" for the fifth season through iTunes, he realized that Apple had not granted access to the final eight episodes of the last season. This is despite the fact that Apple advertises its "Season Pass" option on its website by explaining that viewers will get access to "every episode in that season."
The plaintiff is seeking $20 in damages from Apple for the $22.99 that he spent on the original "Season Pass," minus a $2.99 refund he received for one additional episode that he purchased. However, Apple may also be held liable for the plaintiff's attorneys' fees, as well as any "other relief as this Court deemed just and proper." As a class action lawsuit, Apple would also have to refund other consumers that purchased the Breaking Bad "Season Pass."
Lazebnik is not the first customer to draw negative attention to Apple's "Season Pass" policy for the last season of Breaking Bad. Last month 9to5Mac reported that many iTunes users were unhappy  that the "Season Pass" they purchased only gave them access to the first half of the final season. However, Lazebnik appears to be the first Breaking Bad fan to escalate his complaint to the level of a class action lawsuit.
It should be noted that Amazon (NASDAQ:AMZN) also sells the last 16 episodes of Breaking Bad as two different seasons, but clearly separates the last 8 episodes as "Season 6" or "The Final Season." However, the Breaking Bad iTunes page lists all 16 episodes under the "Season 5" header.
Although this is a class action lawsuit, it will likely have little financial impact on Apple. However, it could have a negative impact on Apple's reputation as a user-friendly source for premium digital content. For this reason, Apple's best move might be to take a relatively small financial loss on Breaking Bad in order to keep its overall customer base happy. Here's how Apple closed out the trading week.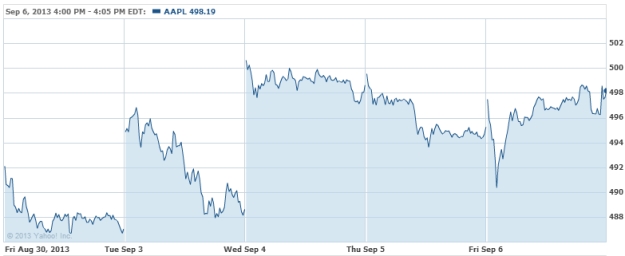 Follow Nathanael on Twitter (@ArnoldEtan_WSCS)
Don't Miss: Apple's Greatly Anticipated September Reveal and Other Stories.