Did Apple Miss This Fad on Purpose?
Apple (NASDAQ:AAPL) may have hedged its bets in the best of ways. A recent report suggested that the in-between sized, part smartphone and part tablet hybrid — or phablets — are just a fad, and not a serious contender in the market.
The report, authored by Flurry Analytics, examined usage and ownership based on device types, and one division divided devices by size. The various sizes include small phones (with screens smaller than 3.5 inches diagonally), medium phones (3.5-4.9 inches), phablets (5-6.9 inches), small tablets (7-8.4 inches), and full-size tablets (over 8.5 inches).
Of all the different device sizes, the medium phone was the most widely owned and used. All of Apple's iPhone models fit into that size category. But this observation is true of other operating systems as well. Microsoft's (NASDAQ:MSFT) Windows Phone is also exclusively in that form factor, and a majority of devices running Google's (NASDAQ:GOOG) Android are in that size range. Only BlackBerry (NASDAQ:BBRY) has a majority in a different size — small phones.
Apple also has tablets fitting into the small and full-size categories, but nothing from the company fits in the phablet category, and that may be for the best.
The report shows that only 2 percent of devices are phablets and that only 3 percent of connected devices users actually use phablets. Additionally, only three percent of app sessions take place on the hybrid devices. Meanwhile, full-size tablets — which make up 7 percent of the installed base — had 13 percent of active users and app sessions, showing that their usage is actually quite extensive…
It may not have been just luck that kept Apple clear of the fad, as chief executive officer Tim Cook said "We've put a lot of thinking into screen size and we think we've picked the right one." This statement was made in regards to the 4-inch screen size for the iPhone 5.
Unfortunately for Apple, which only months ago released the iPad Mini — which fits in the small tablet class — small tablets may also be a fad, as their ownership outweighs their actual usage. The devices make up 6 percent of the installed base, but only account for 5 percent of active users and 4 percent of app sessions.
So, while Apple may have dodged a bullet by not developing a phablet device — it doesn't have to worry about competition from phablets or worry about losses from a weak device — it may still have to think about the future of its iPad Mini, which has had decent sales, but limited actual usage.
Here's how Apple finished trading Monday: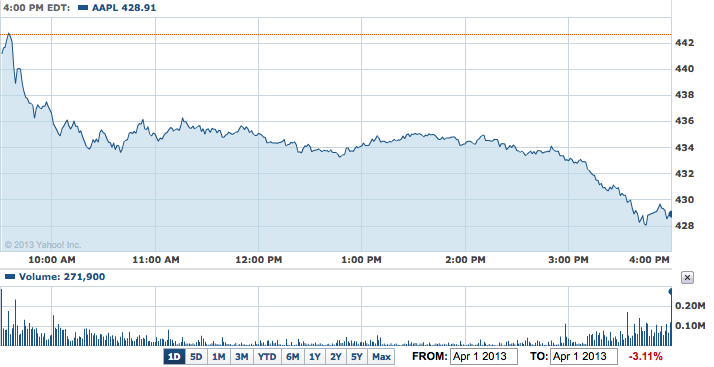 Don't Miss: Could Apple Take More of Samsung's Money?