Did Apple Secretly Buy This Company to Improve Siri?
Has Apple (NASDAQ:AAPL) secretly purchased the predictive search app company Grokr? Mike Elgan at Cult of Mac lays out some compelling circumstantial evidence that Apple may have already acquired this company.
Grokr has already been called the "Google Now for iOS" because it performs many of the same functions that Google's (NASDAQ:GOOG) service does. Like Google Now, Grokr automatically sifts through a user's data in order to proactively provide information and assistance. However, Google Now is also coupled with a Siri-like voice assistant. By meshing Grokr with Siri, Apple could create a comparable service.
Elgan notes that CEO Tim Cook revealed at the All Things D conference that Apple has purchased nine companies over the past fiscal year. Interestingly, Grokr announced this week that, "as of Monday, June 3rd, Grokr will be turned off."
This happens to be exactly one week before the beginning of the Worldwide Developers Conference, which kicks off on Monday, June 10. This could be a sign that the Grokr app will be enfolded into the new iOS 7. This is supported by the fact that the Grokr app has also recently been pulled from the iOS App Store.
Although Grokr announced that it would be developing a "brand new product," it seems odd that it would shut its service down completely for a branding change. Grokr also revealed that the name of its new product is "NEXT." Elgan speculates that this may be a playful reference to NeXT, the software company that was founded by Steve Jobs and later acquired by Apple.
Elgan offers some fascinating arguments for why Siri should be enhanced by combining it with Grokr. However, the evidence for Apple's acquisition of Grokr is still circumstantial. It will be interesting to see if Elgan's predictions are borne out by the revelations at this year's WWDC.
Apple closed down 0.41 percent, or $1.85, at $449.73 on Friday. Here's how Apple has traded over the past week.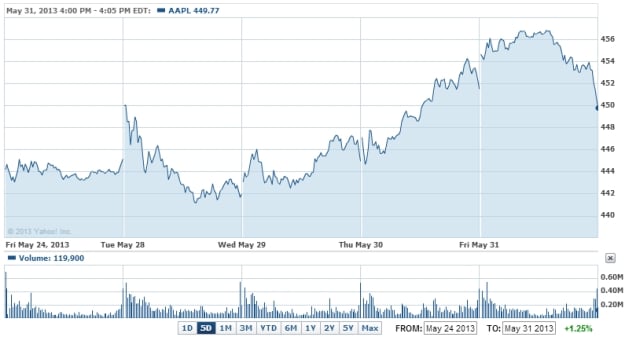 Follow Nathanael on Twitter (@ArnoldEtan_WSCS)
Don't Miss: Analyst: Apple Investors Could See a June Bounce.