Did Apple Single-Handedly Boost Corporate Buybacks?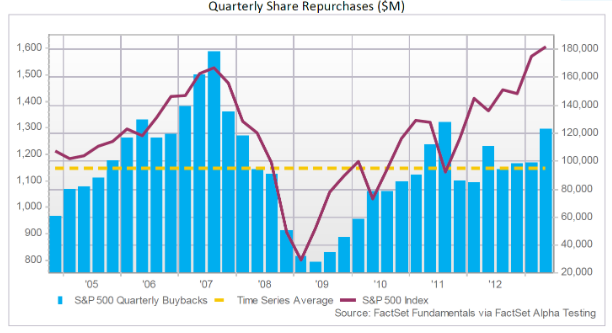 With tepid earnings growth and balance sheets flush with cash, many corporations have initiated or increased share repurchase plans. The amount of buybacks in the S&P 500 recently jumped to a new high, but the world's largest company was responsible for a significant portion of the gain.
During the second quarter, aggregate share buybacks in the S&P 500 gained 12.3 percent to $122.8 billion, according to data firm FactSet. That is the highest quarterly haul since the third quarter of 2011, and the second highest amount since 2007. The Information Technology and Health Care sectors led the way with quarterly repurchases of $37.5 billion and $17.4 billion, respectively.
However, Apple (NASDAQ:AAPL) clearly added to the impressive share buyback total last quarter. The tech giant was responsible for 13 percent of the total value of repurchases in the S&P 500. Apple repurchased $16 billion worth of shares to post the largest quarterly share of buyback activity since at least 2000. The buyback included $4 billion in open share transactions and a $12 billion accelerated share repurchase program.
Apple's share count fell by 3.4 percent in the second quarter from the previous quarter. Prior to the company's impressive buyback figure, only three companies repurchased more than $10 billion in common shares outstanding in a quarter since 2000: International Business Machines (NYSE:IBM), Johnson & Johnson (NYSE:JNJ), and Home Depot (NYSE:HD).
In April, Apple's Board of Directors approved a plan to return $100 billion by the end of 2015, representing a $55 billion increase from the original plan announced last year. It raised its buyback program from $10 billion to $60 billion and hiked its quarterly dividend 15 percent from $2.65 to $3.05 per share. Investors will receive an average of $30 billion per year from the time of the first dividend payment in August 2012 through December 2015.
Apple is currently the largest dividend payer in the market, holding the achievement of launching the biggest single share-buyback program in history, surpassing previous record-holders Microsoft (NASDAQ:MSFT) and Procter & Gamble (NYSE:PG).
FactSet notes in a statement that, "Apple's increased activity also preceded rival Microsoft's September 17 announcement of a $40 billion share repurchase authorization with no expiration date. While the size of the program is substantial, this news is consistent with Microsoft's recent buyback authorization practices."
Over the past two years, Microsoft has averaged a little more than $1 billion in share repurchases per quarter. In the six years prior to the most recent two, Microsoft averaged nearly $4 billion per quarter.

As the chart above shows, it has been a mixed year for major tech firms. Shares of Apple are down about 8 percent year-to-date, while IBM is relatively flat. Microsoft shares are up more than 20 percent this year so far. However, since hitting a low of $385 in April, Apple has rallied 27 percent.
Don't Miss: These 8 Power Players Are Scoring Massive Web Traffic
Follow Eric on Twitter @Mr_Eric_WSCS