Did Apple Slip the iWatch Into This iPhone 5 Ad?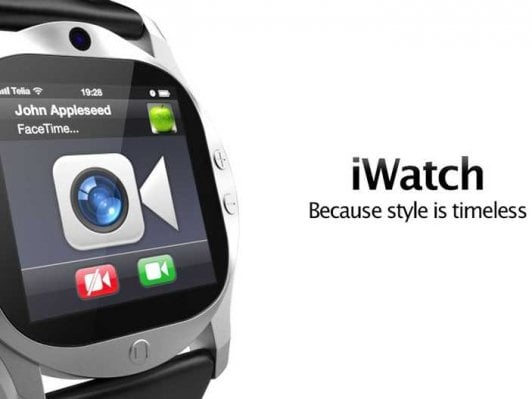 Did Apple (NASDAQ:AAPL) purposely slip the long-rumored iWatch device into its latest iPhone 5 advertisement? The iPhone ad, which debuted on Thursday, features various people using different types of Apple products. At approximately the 30-second mark in the video, a young man is shown drumming on a table. On his wrist he is wearing a square, black wristwatch with a beveled glass cover on it.
Although some commentators have speculated that this might be the first glimpse of Apple's iWatch product, others aren't so sure. Michael Steeber at 9to5 Mac calls the insertion of the watch device in the ad a "subtle troll" on Apple's part. Similarly, Charlie White at Mashable thinks it may be a "subliminal hint" devised by Apple. In this sense, the device may not be the fabled iWatch, but rather an attempt by Apple to subtly link the Apple brand with a wristwatch computer. Some commentators have even speculated that Apple "accidentally" revealed the iWatch in this ad, although that seems especially unlikely given that corporate ads are carefully filmed and edited down to the last nanosecond.
Other commentators have dismissed the speculation about the iWatch out of hand, noting that the device appears to be a Newton by Nixon watch. However, although the watch in the ad superficially resembles the Newton watch, it also appears to have different detailing on the face as well as lacking Newton's distinctive wind-up dial.
Although we can't say for sure if the wristwatch device glimpsed in the iPhone 5 commercial is related at all to Apple's iWatch product, we can safely assume that Apple considers this ad to be an unqualified success since it has generated so much speculation and interest. Here's how Apple has traded over the past week.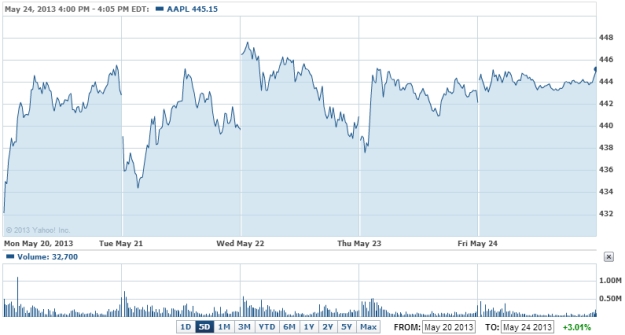 Follow Nathanael on Twitter (@ArnoldEtan_WSCS)
Don't Miss: Is the iPad Winning In E-Commerce?