Did Apple's Apology to China Come With This Awesome Gift?
After weeks worth of accusations from China's state-run media outlets — claiming that Apple's service policies discriminated against its Chinese customers — reached critical mass and caused many analysts to fear for Apple's future profitability in its second-largest and fastest-growing market, the company has adjusted its stance. Chief Executive Officer Tim Cook has apologized and assured critics that the company's iPhone warranty policy for iPhones sold in China would be amended.
Now, that policy is even better than the one in place in the United States.
Under the terms set forth by the new policy for Apple customers in China, when an iPhone 4 or 4S breaks, its owner will be given a brand-new device with a brand new one-year warranty, reported The Atlantic Wire. Previously, the company's warranty policy only entitled customers to a refurbished with phone with the same warranty that was tied to the original device. It was this part of the warranty that drew the ire of China's media outlets like the People's Daily and China Central Television. But it is the same policy that United States customers are held to…
The smear campaign was dominated by reports that portrayed Apple as "arrogant" and insisted that the company's customer service policy was disrespectful of Chinese iPhone users because of its warranty restrictions. "Smash Apple's 'Incomparable' Arrogance," read one such headline printed by the People's Daily last week.
Many pundits hypothesized that these articles and broadcasts were propaganda efforts on the part of the government aimed at restricting Apple's flexibility in order to give its homegrown technology companies a better shot at the Chinese smartphone market. However, it must be noted that the Chinese law does mandate a two-year warranty, while Apple only provided a one-year warranty.
As The Atlantic Wire noted, the Chinese government's propaganda "didn't convince everyone and analysts didn't really think Apple would lose too many customers," by Cook still felt it was necessary to make an apology. It was not really the public bashing that concerned Apple, but rather, according to a report in The Wall Street Journal, worries that addition regulations would be heaped upon the company's operations. "The sharp criticism of Apple has led analysts to worry the Chinese government may take further regulatory steps aimed at foreign handset manufacturers like Apple," wrote the Journal's Paul Mozor. And that consequence of the media's criticism could have been harmful.
For comparison, here is the current United States iPhone warranty policy: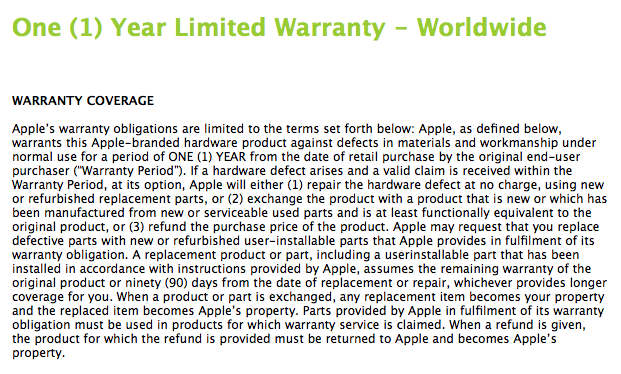 Here's how Apple finished trading on Tuesday:

Don't Miss: Patent Trial: Has Apple Lost an Edge on Samsung?